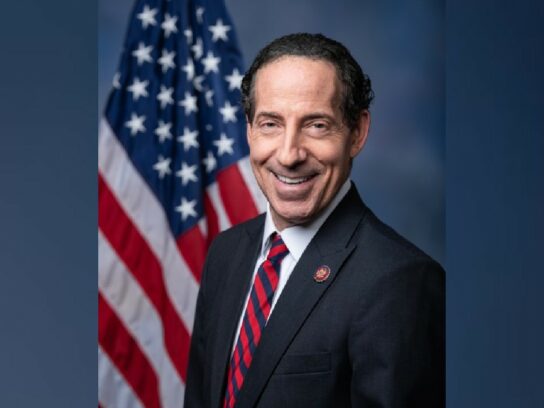 In a speech to the U.S. House of Representatives Rules Committee Tuesday, Rep. Jamie Raskin called on Vice President Mike Pence to obtain the necessary consent from cabinet members to declare President Donald Trump "incapable of executing the duties of his office."
Raskin spoke in support of Section Four of the 25th Amendment to remove President Trump from office, saying that what happened when rioters invaded the U.S. Capitol and the events surrounding it were "absolutely intolerable and unacceptable."
Raskin referred to U.S. House Resolution 21, which he authored and introduced Jan. 11. It also calls on Pence to declare Trump unfit for office.
What Trump did and did not do "was an absolutely dereliction of presidential duty," Raskin said less than two weeks after burying his son, Tommy, who died by suicide.
"It is indeed President Trump's persistent and obdurate refusal to accept these election results and this outcome and his determination to discredit, nullify and overturn the election results that has led us to the current national crisis," Raskin said.
Raskin, a Constitutional scholar, said the 25th Amendment was created "to defend the stability of the Republic and to guarantee the safe continuity of governmental operations at the very highest levels."
Sections Two and Three of the amendment have been used before, according to Raskin, including when President Richard Nixon resigned and the Vice President Gerald Ford became president and when President Ronald Reagan underwent colorectal surgery and transferred power to Vice President George Herbert Walter Bush.  However, Raskin was citing Section Four in his call to Pence.
Raskin spoke about the events of Jan. 6, saying that there were chants to hang Pence and seek out Speaker of the House Rep. Nancy Peloski.
"The President of the United States, on January 6th, and indeed in the several months leading up to it, violated his Oath of Office by doing everything in his power to thwart and defeat the proper counting of the Electoral College vote on January 6th. He did everything in his power to overturn the authentic popular results of the election," Raskin told members of the committee. He spoke about a president's duty to defend the American people, Congress and the Constitution.
Raskin, who sits on the Judiciary Committee, spelled out several instances that he believes show that Trump has violated his oath of office. 
If Pence and the cabinet members do not invoke the 25th Amendment, members of the House of Representatives are expected to call for Trump's impeachment.
You can watch Raskin's entire statement below:
Today at 11:00 am, I will present our 25th Amendment Resolution before the Rules Committee. I hope that we will pass it out of Committee on a bipartisan basis and move it to the House Floor for a roll call vote. Watch here: https://t.co/E4Cl0SqfrA

— Rep. Jamie Raskin (@RepRaskin) January 12, 2021
Related Post
House Introduces Raskin's 25th Amendment Bill, Unveils Impeachment Article