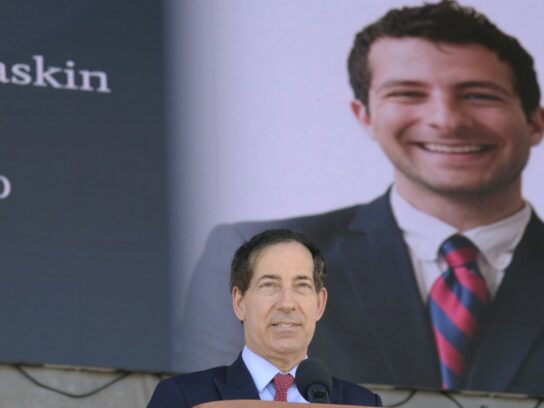 During a three-hour drive-in memorial service Saturday afternoon, Tommy Raskin, who died of suicide at the age of 25, was remembered by family, friends and thousands of others gathered at RFK Stadium in Washington, D.C. or watching virtually on You Tube.
The celebration of his life featured memories from long-time friends, teachers, his sisters and parents interspersed with prerecorded videos of answers to such questions as what they admired most about U.S Rep. Jamie Raskin's middle child, what they learned from him and what they would like to say to him now. They also were asked to say one word that best describes him.
Funny, sensitive, kind, good, gentle, illuminary, authentic and his positivity were just some of the many attributes cited. Arlene Bloom said her grandson was "caring, devoted."
Tommy Raskin, who grew up in Takoma Park, lost his life to depression on Dec. 31, 2020. He was a graduate of Amherst College and was attending Harvard Law School at the time of his death. He was a poet, an enthusiastic Boggle player, a vegan, a political person who cared about every person and animal in the world.
The idea for the drive-in memorial arose when Tommy's sister, Tabitha, said she felt cheated that due to COVID-19, she could not hug those who shared her grief and missed out on in-person, comforting Shivah, the Jewish mourning ritual.
Tommy's father was the last to speak. The Congressman praised his son, calling him an "independent thinker" from a very young age who always displayed "dazzling courage and poise." He made sure his entire class was invited to his fourth birthday party, changed his lunch partners regularly at Eastern Middle School in Silver School so that he wouldn't just sit with students in the magnet program and held a dinner for a group of Montgomery Blair High School students so they could all enjoy the prom together, even if they had no date.
Often fighting back tears, Raskin said he never again will believe that everything will get better in the end. He has lost his sense of happily ever after.
"He was literally too good for a world this broken," Raskin said, and then urged everyone to "Look after each other. Look after the animals. Look after the global poor. Make justice real. Let freedom ring. Walk in peace. We'll follow your words Tommy. We will look after each other, and we will take strong action to make the world a gentler place, a better place. Go in peace my dear boy."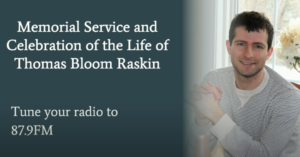 Those who spoke admired the young man's ability to "embody every side of an argument," his desire "to fix the wrongs in the world," his "willingness to help" and his ability to consider everyone, regardless of their views, "a very fine sentient being." One friend relished how Tommy Raskin "believed in me." A teacher noted, "Tommy was not interested in winning an argument," but rather preferred hearing all points of views.
"He really, really cared about what you said," said friend Sophie Clark. Another friend, Tom Agger, said, "Sometimes I would look at him and say that's what I want to be when I grow up, which is such a crazy thing for someone his [same] age to say." Yet another friend called him, "the Michael Jordan of our generation."
Some admitted to losing "too many" Boggle games, and one friend estimated that she had lost 60 to 80 games over a nine-month period. Yet another friend acknowledged that she had lost "every single game."
Scattered throughout the celebration of his life were videos featuring Raskin reciting two of his poems and an intense interaction with a college professor.
His mother described an eight-hour road trip in which her son in college challenged a Libertarian professor to a debate, wr0te his side of the issue, submitted it to a peer-review publication and heard back from the professor two times.
During the ceremony, guitar players sang "Hallelujah," Bob Dylan's  "You're Going to Make Me Miss You When You Go," Dar Williams performed two of her songs, including, "I Had No Right" about Maryland's Daniel Berrigan.
The Tommy Raskin Memorial Fund for People and Animals has raised more than $1 million to be dispersed through grants to causes he cared about, his sister, Hannah, announced. Also, Jan. 30, Tommy's birthday, was being designated as an annual Good Deeds Day in his honor.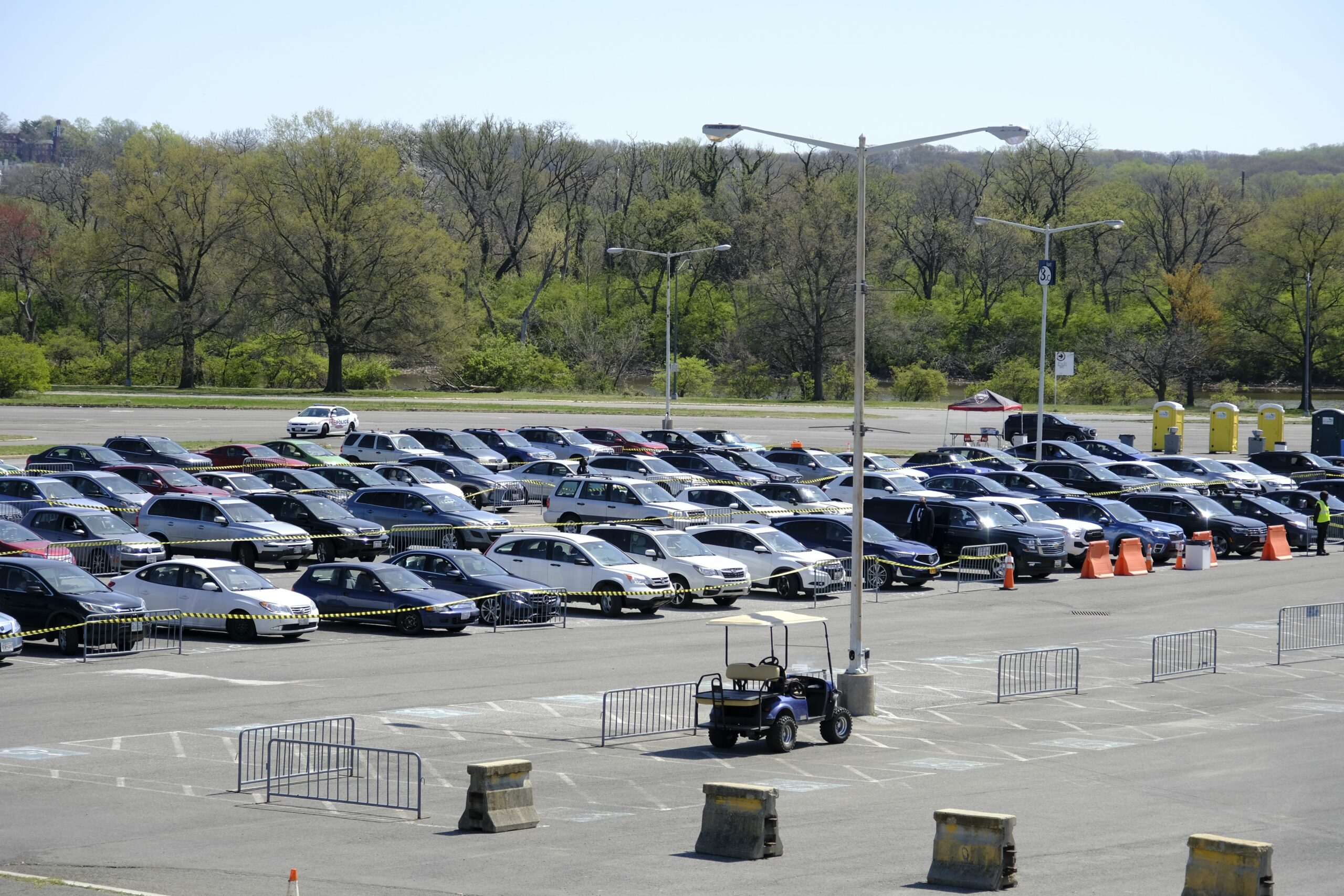 The parking lot at RFK Stadium filled with mourners attending Tommy Raskin's memorial service. 
His mother, Sarah Bloom Raskin, was one of many family members and friends who spoke lovingly of the 25-year-old Harvard Law School student who died by suicide.
Photos by Matthew Bergh