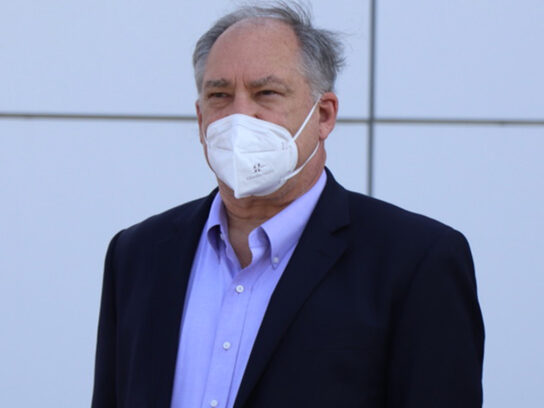 County Executive Marc Elrich said of his bout with COVID-19, "It's not pleasant, but I have been sicker than this before."
Between occasional sniffling and coughing, Elrich told MyMCM Monday that he believed that becoming vaccinated and receiving a booster shot kept him home rather than in the hospital, or even dead.
He believes he caught the virus while assisting two people in his home who had COVID-19. "You are going between floors," delivering food and picking up dishes, he said. While he tried his best to be careful, he still tested positive Jan. 1.
He is concerned about the stress the pandemic has caused among residents and front line workers in Montgomery County, especially firefighters, jail employees and police, "the ones with the most front facing" with the public.
Elrich would prefer the county keep its indoor mask mandate until the test positive rate and number of cases per 100,000 residents drops considerably. Currently, there were 1,590 cases reported during a 14 day period per 100,000 residents. There were 4,921 new cases reported on Jan. 3.
In June, the county recorded only four cases per 100,000, Elrich recalled. He would like for that rate to be about 10 cases per 100,000 residents before the mask mandate is removed, although he said others are advocating for a slightly higher rate.
While quarantining at home, Elrich is still working. He briefly discussed his 2022 goals that include more affordable housing, a county budget that includes new initiatives, obtaining federal funds for bus rapid transit and work in the White Flint area that would include life sciences offices.
During his first year as executive, Elrich said he submitted a budget that included $90 million in cuts. His second year, the county budget maintained but did not add any new programs.
"I've been kind of constrained at what I can do," he said.
This year, he is working on a budget that will include new initiatives, he noted.
Elrich is seeking re-election and is running against Montgomery County Councilmembers Tom Hucker and Hans Riemer and businessperson David Blair.
Jan. 5 at 7 p.m., those four men are scheduled to participate in a virtual public forum on affordable housing, renters' rights and eviction.
The virtual event, sponsored by the Montgomery County Renters Alliance, will be livestreamed on MyMCM's Facebook page and simulcast on YouTube from 7-9 p.m. It will also be available on Montgomery County Cable.
Here is what Elrich told MyMCM Monday.
Related Post
County Executive Candidates Forum to be Livestreamed Wednesday by MyMCM