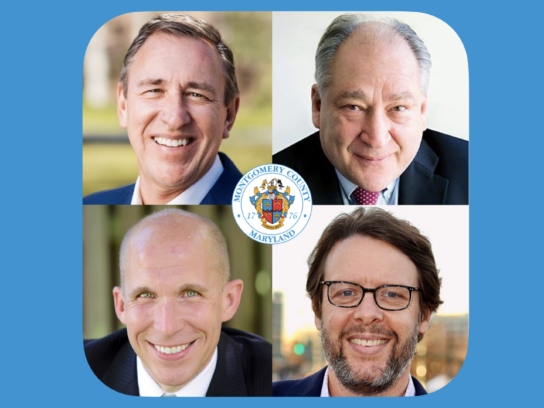 Candidates for Montgomery County Executive will discuss issues surrounding affordable housing, renters' rights, and the eviction crisis on Wednesday, Jan. 5 at 7 p.m. in a virtual public forum. Confirmed candidates businessman David Blair, incumbent County Executive Marc Elrich, Councilmember and former County Council President Tom Hucker, and Councilmember Hans Riemer will participate.
William Roberts, Chair of the Renters Alliance Board, will moderate a panel of reporters from the Washington Post, Bethesda Magazine, and WTOP. In addition, the candidates will field questions offered in advance by the general public.
The virtual event, sponsored by the Montgomery County Renters Alliance, will be livestreamed on MyMCM's Facebook page and simulcast on YouTube from 7-9 p.m. It will also be available for viewing on MCM's channels 19, 21 and 995 (HD) and Montgomery County Cable.
The County Executive serves for four years. The current executive's term ends on December 5, 2022, at noon.
The Primary Election will be held on Tuesday, June 28, 2022 and the General Election will be held on Tuesday, Nov. 8, 2022.