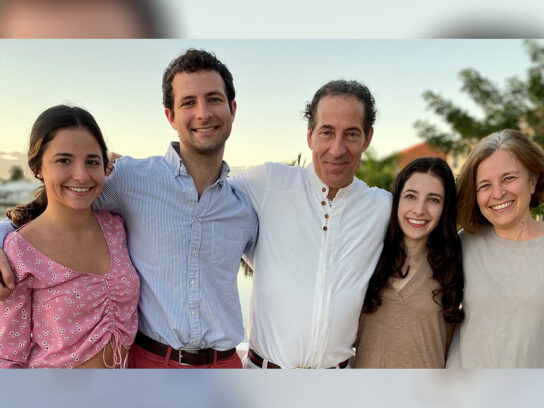 Rep. Jamie Raskin (D-Md. 8) and his wife Sarah Bloom Raskin published an emotional essay on Medium Tuesday, remembering their 25 year-old son Tommy who died on New Year's Eve.
The Raskins describe their son Tommy as having "a perfect heart, a perfect soul, a riotously outrageous and relentless sense of humor, and a dazzling radiant mind."
Tommy Raskin was shaped by his education in Montgomery County, attending Takoma Park Elementary School, Pine Crest Elementary, Eastern Middle School, and Montgomery Blair High School. He went on to graduate from Amherst College in Massachusetts and was a second year law student at Harvard Law School.
Statement of Congressman Jamie Raskin and Sarah Bloom Raskin on the Remarkable Life of Tommy Raskin: https://t.co/tBJdK29g6B

— Rep. Jamie Raskin (@RepRaskin) January 4, 2021
Raskin and his wife say, "Tommy became an anti-war activist, a badass autodidact moral philosopher and progressive humanist libertarian, and a passionate vegan who composed imperishable, knock-your-socks-off poetry linking systematic animal cruelty and exploitation to militarism and war culture."
When Tommy was in his twenties, he became tortured by "a disease called depression."
Raskin and Bloom Raskin say, "On the last hellish brutal day of that godawful miserable year of 2020, when hundreds of thousands of Americans and millions of people all over the world died alone in bed in the darkness from an invisible killer disease ravaging their bodies and minds, we also lost our dear, dear, beloved son, Hannah and Tabitha's beloved irreplaceable brother, a radiant light in this broken world."
Raskin and his wife say that Tommy left the family a note that said, "Please forgive me. My illness won today. Please look after each other, the animals, and the global poor for me. All my love, Tommy."
The Raskin family has launched a memorial fund in Tommy's name, which will raise money for causes and issues that were important to Tommy like Oxfam, Give Directly, the Helen Keller Institute, and Animal Outlook.
https://www.instagram.com/p/CJoxtkHshDr/
The Raskin family is holding a private funeral for Tommy on Tuesday. They plan to announce public virtual memorial services for Tommy later in January.
Condolences can be sent to the family via Rep. Raskin's email or via mail to the Rep. Raskin's Rockville District Office, located at 51 Monroe Street, Suite 503, Rockville, MD 20850.
[hr]
If you or someone you know is struggling and needs help, call the 24/7 National Suicide Prevention Lifeline at 1-800-273-8255.
Related Post: