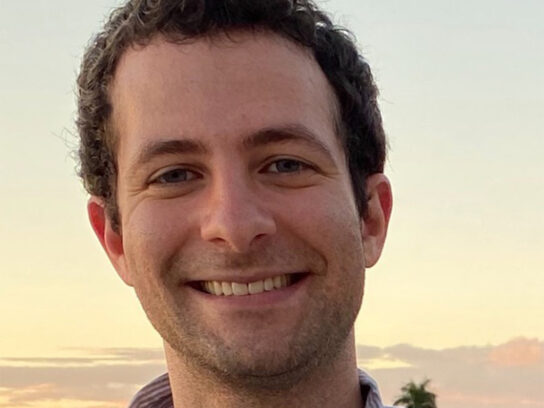 En la víspera de Año Nuevo, el representante Jamie Raskin (D-Md. 8) y su esposa Sarah Bloom Raskin anunciaron la muerte de su hijo, Tommy, que tenía 25 años.
Tommy Raskin era un estudiante de segundo año en la Facultad de Derecho de Harvard y se graduó de Amherst College en Massachusetts. Asistió a la escuela primaria Takoma Park, a la primaria Pine Crest, a la escuela intermedia Eastern y a la preparatoria Montgomery Blair.
El representante Raskin dijo en un comunicado: "Tommy fue pura magia. Su brillantez y compasión no conocieron límites. Amaba apasionadamente a su familia, amigos y animales, y se dedicó a la causa de los pobres del mundo. Estamos devastados y demolidos por estar sin él ".
With profound sorrow, Congressman Raskin and Sarah Bloom Raskin today announced the loss of their son Tommy: https://t.co/rvpgqv36L9 pic.twitter.com/nSo55xBUPx

— Rep. Jamie Raskin (@RepRaskin) December 31, 2020
El sábado, la familia Raskin lanzó el Tommy Raskin Memorial Fund for People and Animals a través de Greater Washington Community Foundation. El fondo conmemorativo comenzó con una contribución inicial de $50,000 y continuará recaudando dinero semestralmente para causas que fueron importantes para Tommy Raskin como Oxfam, Give Directly, el Instituto Helen Keller y Animal Outlook.
Una declaración de la oficina del Representante Raskin dice que la familia se ha sentido conmovida por los tributos provenientes de los miembros de la comunidad y los antiguos maestros, amigos y compañeros de clase de Tommy.
Las condolencias para la familia Raskin puede ser enviadas por escrito al correo electrónico del Representante Raskin o por correo convencional a la Oficina del Distrito de Rockville del Representante Raskin, ubicada en 51 Monroe Street, Suite 503, Rockville, MD 20850.
https://www.instagram.com/p/CJoxtkHshDr/
La familia Raskin llevará a cabo un funeral privado el martes por la mañana de acuerdo con los protocolos COVID-19. A finales de enero, la familia Raskin ofrecerá servicios conmemorativos virtuales públicos, que se anunciarán más adelante.
La familia Raskin no anunció la causa de la muerte.
Homenajes a Tommy Raskin en las redes sociales:
Varios líderes acudieron a las redes sociales para compartir sus condolencias con la familia Raskin:
The First Lady and I extend our deepest sympathies over this heartbreaking loss. I ask all Marylanders to keep the Raskin family in your prayers. https://t.co/d5asbOartf

— Governor Larry Hogan (@GovLarryHogan) January 1, 2021
Katherine and I extend our deepest sympathy and love to Jamie and Sarah at this moment of immeasurable pain for them and their family on the loss of their beloved son Tommy. https://t.co/Z2kk5WFMd3

— Senator Chris Van Hollen (@ChrisVanHollen) January 1, 2021
Sharing love and prayers tonight for @RepRaskin and his family. Team Maryland is with you always.

— Senator Ben Cardin (@SenatorCardin) January 1, 2021
Sending condolences to my friends Jamie and Sarah and the entire Raskin family. Words cannot convey the depth of our sorrow for your tragic loss.

— Rep. John Sarbanes (@RepSarbanes) January 2, 2021
I am holding the Raskin family in my prayers. This is such a devastating loss for their family and our community. May he rest in eternal peace. https://t.co/hQLomN1aml

— Nancy Navarro (@nancy_navarro) December 31, 2020
Many of us are heartbroken about the tragic loss of Tommy Raskin, filled with sorrow & love for his wonderful family.
Please give what you can to the Tommy Raskin Fund for People and Animals to support the causes that this brilliant and kindhearted young man cared about the most. https://t.co/TDSqNJ3SPF

— Tom Hucker (he/him) (@tomhucker) January 3, 2021
The House of Representatives extends our deepest and personal condolences to @RepRaskin & his family on the passing of their beloved son, Tommy, whose "brilliance and compassion knew no bounds."

— Nancy Pelosi (@SpeakerPelosi) January 1, 2021
Bruce and I are keeping our friends @RepRaskin and @SBloomRaskin in our prayers for the tragic loss of their son Tommy. Sending you all our love, strength, and support. https://t.co/32NMCcA1sB

— Elizabeth Warren (@SenWarren) January 1, 2021
My heartfelt condolences go out to Congressman @jamie_raskin and his wife, Sarah Bloom Raskin on the passing of their son Tommy. I've known the Raskins for years; Jamie is my congressmember and friend, and Sarah is a former colleague of mine.

— Tom Perez (@TomPerez) January 1, 2021
My heart breaks for my friend @RepRaskin, his wife and children, and everyone who knew and loved Tommy. Sending the Raskin family love, prayers, and my deepest sympathies in this unimaginably difficult time. https://t.co/snoZo47lVv

— Gabrielle Giffords (@GabbyGiffords) January 1, 2021
My heart is heavy and with the Raskin family. I pray love & strength find them in the wake of this profound loss.

Tommy was my constituent & I always loved our conversations, we shared many flights to DC. He brought so much light into the world. May his memory be a blessing. https://t.co/ucArLAb0Et

— Ayanna Pressley (@AyannaPressley) January 1, 2021
Heartbroken over this unimaginable loss. Praying for my friend @RepRaskin, Sarah, and everyone who loved Tommy. May he rest in peace. https://t.co/tpChYaWBrC

— Joe Kennedy III (@joekennedy) January 1, 2021
So profoundly sorry for your and Sarah's unfathomable loss. May you find strength and support in the love of family and friends and the well wishes of many others.

— Susan Rice (@AmbassadorRice) January 1, 2021
Jennifer and I are praying for @RepRaskin and his family as they mourn the tragic loss of their son Tommy. May God watch over you during this heartbreaking time. https://t.co/8CFm07hJDS

— Steve Scalise (@SteveScalise) January 1, 2021
My condolences go out to Congressman @jamie_raskin and his wife, Sarah Bloom Raskin on the passing of their son Tommy.

There are no words.

Rest with the angels, Tommy.

— Alyssa Milano (@Alyssa_Milano) January 1, 2021
All love to @RepRaskin, Sarah, Hannah, Tabitha and the entire Raskin family. Tommy was an original and his passage is a profound loss. Our entire community is heartbroken. https://t.co/yR4SwYG8lP

— Senator Will Smith (District 20) (@Willcsmithjr) December 31, 2020
Heartbroken tonight to hear of Tommy's passing. @jamie_raskin our hearts break with you, Sarah and the entire family. My thoughts, prayers, condolences, and love to you. https://t.co/XHZfKp8iFf

— Jheanelle Wilkins (@JheanelleW) January 1, 2021
This is gutting. Tommy was a brilliant and compassionate person.

Sending thoughts and love to Jamie, Sarah, and the Raskin family. https://t.co/fYljbQRMbL

— Vaughn Stewart (@DelegateStewart) December 31, 2020
So much heartbreak, but sending all my love @jamie_raskin, Sarah, Hannah, & Tabitha. I watched Tommy grow over the years & bring light to others. He'll be sorely missed 💔 https://t.co/eZxpXUYlIq

— David Moon (@DavidMoon2014) December 31, 2020