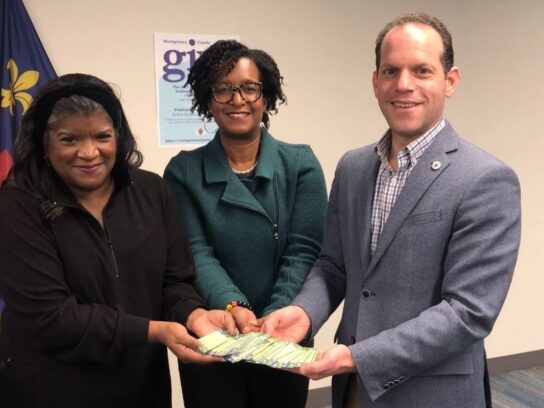 Un residente del condado de Montgomery, que prefiere permanecer en el anonimato, donó casi $10,000 en tarjetas Metro que se destinarán a familias de bajos ingresos, anunció el jueves el presidente del concejo del condado, Evan Glass.
Glass, quien está facilitando la donación, dijo que el residente se acercó a él hace unas semanas queriendo hacer la donación.
County Council President @EvanMGlass announces an anonymous donation of Metro cards, which he is facilitating. He says a county resident reached out to him to donate nearly $10,000 in cards. 33 cards with $300 each will go to low-income families. @mymcmedia pic.twitter.com/SD8vXj6bLN

— Maryam Shahzad (@maryam_mcm) December 15, 2022
33 familias obtendrán tarjetas Metro, con $300 por tarjeta. Los beneficiarios son familias de Head Start y Early Head Start.
Glass dijo que Head Start y Early Head Start son programas de educación infantil en las Escuelas Públicas del Condado de Montgomery que brindan servicios integrales, como atención médica, atención dental, nutrición y apoyo familiar, a niños y familias necesitadas. Las familias en el programa están en o por debajo de la línea de pobreza federal, que Glass dijo que era menos de $28,000 para una familia de cuatro, este año.
"Sabemos que el tránsito abre oportunidades para la educación, la movilidad social, la movilidad económica, el acceso a empleos, porque de lo contrario, si no tenemos un buen transporte confiable al que las personas puedan acceder, literalmente se quedarán atrapadas donde están", agregó.
"Puede parecer un aspecto pequeño, pero esto es realmente enorme para ellos", dijo Verna Washington, supervisora de Head Start de MCPS.
"Esto definitivamente afectará su capacidad para satisfacer las necesidades de su familia", dijo Nichelle Owens, también supervisora de Head Start en MCPS.
"Esta es la temporada navideña y es un momento para retribuir", agregó Glass.