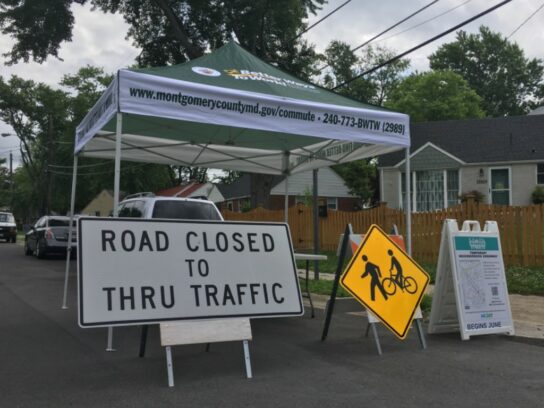 Montgomery County residents looking for extra space to walk or bike can submit a request for a shared street permit in their neighborhood.
Montgomery County Department of Transportation's shared streets program aims to temporarily close roadways from vehicle-use to accommodate the need for additional outdoor space amid COVID-19.
Want to open up your block for pedestrians, bicyclists, and socially distanced gatherings?

Streets are for people. And now @MCDOTNow is providing the opportunity to create an open street right outside your door with this free application: https://t.co/yPllyOB1Es pic.twitter.com/xZgSj9GXHY

— Councilmember Andrew Friedson (@Andrew_Friedson) June 25, 2020
Last week, the county temporarily transformed an area of Holdridge Road in Aspen Hill and Grove Street in Silver Spring into neighborhood greenways to support social distancing. The county also closed streets in Bethesda, Wheaton and Silver Spring earlier this month to accommodate additional outdoor seating for restaurants and support economic recovery.
Shared street block permits are available for either a four-day period between Monday and Thursday or a three-day period between Friday and Sunday.