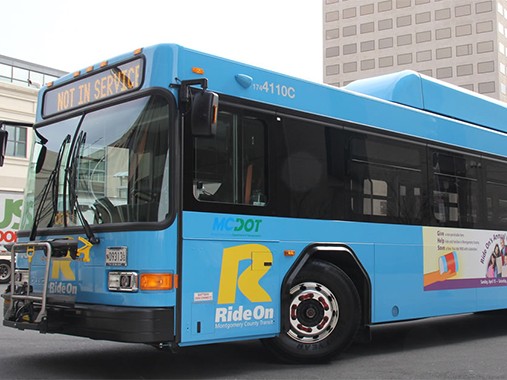 Ride On Bus Service Hours Change Beginning Sunday
The Montgomery County Department of Transportation (MCDOT) announced that they will be reducing their hours of operation for Ride On buses beginning Sunday.
Due to the COVID-19 outbreak, MCDOT implemented the Essential Service Plan which includes 36 critical routes so that residents can take Ride On buses for essential trips during the health crisis.
Under the new schedule, Ride On buses will not begin any midnight services. Although, if a bus run is scheduled to start before midnight, the bus will complete the route, including locations they serve after midnight.
The changes will go into effect overnight Sunday into Monday. This change will appear on the online bus schedule as of Sunday.
In addition to this change, MCDOT has implemented a procedural change for riders. All riders must board at the rear door of the bus. Passengers can board through the front doors if a ramp is needed to accommodate a disability or stroller.
In observance with Maryland Governor Larry Hogan's recent directive during the health crisis, passengers on Ride On buses are required to wear face coverings to board the bus. Ride On services continue to be temporarily free to all passengers.
Ride On Bus Service Hours to End at Midnight Each Night Beginning April 26, 2020. https://t.co/MD7qPxx8z9

— Ride On Bus (@RideOnMCT) April 24, 2020