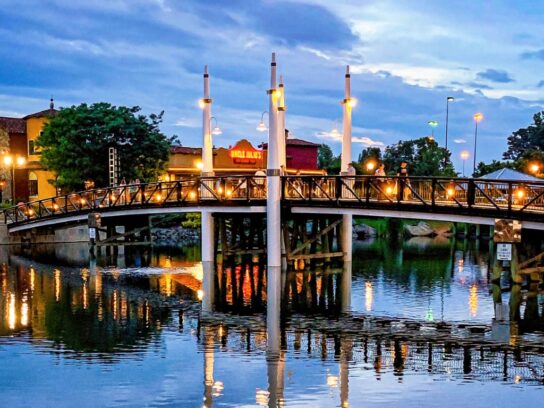 RIO in Gaithersburg is introducing some exciting, new features for the upcoming holidays.
The new fire lounge is set to open Wednesday and the igloo lounges are already fully booked for this weekend, RIO's Regional Marketing Director Laurie Yankowski told MyMCMedia.
"The new fire lounge, s'mores stations, cozy private igloos, and all of RIO's 'at your own pace' holiday activities offered with RIO's 'Make Room for Joy' program are intended to spark joy as our customers safely shop and dine this holiday season," Yankowski said.
The new fire lounge has been under construction since late August. It is part of the second phase of RIO's $30 million refresh on the Gaithersburg complex owned by Peterson Cos., a Fairfax-based developer.
The fire lounge will have three fire pits and seating, but seating will currently be limited due to COVID-19 restrictions. Yankowski said it's a great place for patrons when they are waiting for their reservations at the restaurants or a spot to just hang out with a hot chocolate or coffee after dinner.
The festive igloo lounge events are a new feature RIO has for the holiday season. There will be two igloos set up on the Lakefront where the old playground was located.
Each igloo accommodates a party of up to six people and requires a $25 fee. The furnished igloos will be sanitized between each use and also include Bluetooth speakers and wireless charging stations
"The igloos are a cool amenity that we're doing to support the shopping and support the restaurants and create this unique space for people who want to come out, but want an alternative," Yankowski said.
She also said RIO will soon release the second series of dates, Dec. 11-12, for future igloo lounge reservations. However, this depends on Governor Larry Hogan's pending COVID-19 restrictions.
For more info, go to www.riolakefront.com