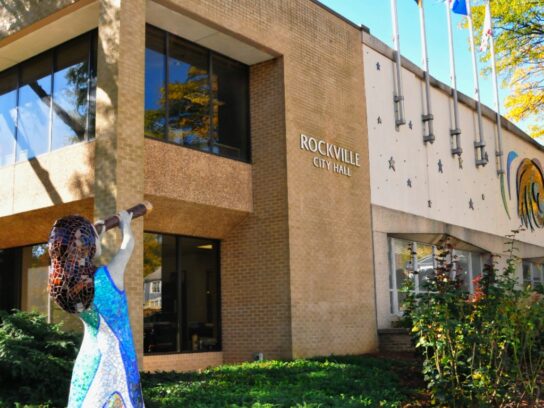 Classes, Programs, Rentals and Activities Canceled
Rockville City Hall and city facilities will be closed to the public from Saturday, March 14, through Friday, March 27, following recently issued state directives for slowing the spread of the coronavirus, COVID-19.
The closures include community centers, the Rockville Swim and Fitness Center, Croydon Creek Nature Center, Glenview Mansion, F. Scott Fitzgerald Theatre and Montrose Discovery Preschool.
Following a directive from the Maryland Department of Aging, the Rockville Senior Center closed Thursday, March 12, and will remain closed through March 27.
Classes, programs, rentals and activities during this period have been canceled at all recreation facilities.
Boards and commissions meetings scheduled from now through March 27 have been canceled.
Essential Services Continue
Essential city services will continue throughout this period, including regular trash and recycling collection, water treatment, and police patrols and emergency response.
The Mayor and Council's March 18 and 23 meetings will be held as scheduled. As a precaution, the meetings will be closed to in-person attendance by members of the public. To help reduce the risk of COVID-19 transmission, the Centers for Disease Control and Prevention has recommended social-distancing measures, including reducing activities, particularly for those with increased risk of several illness.
The meetings will be broadcast live on Rockville 11, via livestreaming at www.rockvillemd.gov/rockville11 and will be available on demand at www.rockvillemd.gov/videoondemand.
Community forum comments will be accepted in writing. Email mayorandcouncil@rockvillemd.gov to submit community forum comments, or deposit written comments into a box that will be stationed at City Hall's front doors.
Budget public hearing testimony can be submitted in writing to cityclerk@rockvillemd.gov or City Clerk/Director of Council Operations, City Hall, 111 Maryland Ave., Rockville, MD 20850.
A public hearing on the Rockville City Police Department's reaccreditation process will still take place, from 6:30-8:30 p.m. Wednesday, March 18, at Glenview Mansion, 603 Edmonston Drive.
The city has also compiled a list of resources for up-to-date, trustworthy information on COVID-19 on its website.