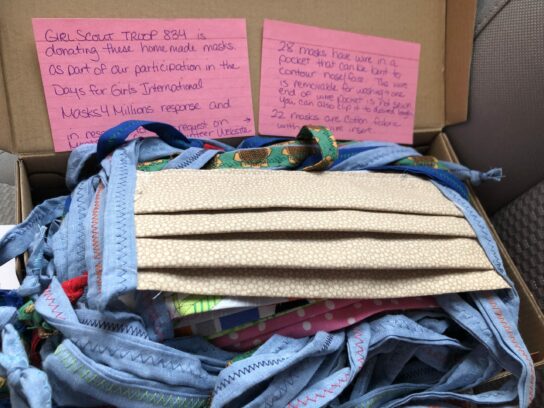 Supporting Employment Equality and Community a local nonprofit that supports people with intellectual and developmental disabilities, has already distributed over 3,000 masks for Direct Support Professionals in Maryland.
DSP's work with people who have intellectual and developmental disabilities to live independently and have become even more important now for those who are homebound. Executive Director Karen Lee came up with the idea of distributing masks to both DSP's in her organization, as well as across the state of Maryland, after doing research on ways to reduce the spread of the virus.
"It just dawned on me that if we can reduce exposure by even 25%, isn't that worth it? Especially since so many of our staff have to be physically close while doing personal care for people," said Lee.
To collect masks for the DSP's, Lee began making her own masks at home in March as well as asking people for donations through social media and their website. SEEC also teamed up with the Arch of Maryland to help distribute and collect masks. Very quickly, SEEC began receiving donations on a daily basis from people and organizations including Moco Mask Makers, Million Mask Challenge, Girl Scout Troop 834 and Mask Makers for a Safer Community.
SEEC has already distributed over 500 masks to DSP's within their organization as well as an additional 2,500 masks to DSP's across the state. In addition to distributing masks to DSP's, SEEC has also been sending weekly goodie baskets as well.
"We got such tremendous feedback from the DSP's, which triggered us creating a goodie bag that we send out once a week to every DSP that goes out with their supplies," said Lee. "The sending out of the masks was really a catalyst for us recognizing how much the people on the front lines need to be appreciated on a regular basis."
The goodie bags include a variety of things such as hand written thank you notes from the community, flowers, soap and treats. Other organizations, such as United Therapeutics, have even been volunteering to fill the gift bags for the DSP's.
Dominic Okoji, a DSP himself, works for SEEC and has received the masks and weekly goodie bags. According to Okoji, it is extremely important for him as a DSP to have a mask so that he can continue to support the people he works with.
"I have received the baskets and Karen Lee is so gracious to see that we get all that we need including hand sanitizers, face masks and even thank you notes and gift cards to motivate and encourage us to give our best," said Okoji.
SEEC has been working hard to support the DSP community, despite facing their own challenges as a nonprofit during this time. Many of the organizations like SEEC are in a tough situation as the people they work with, or that work for them, have been exposed to the coronavirus. This has caused a shortage in the amount of DSP's available. Despite this, both their staff and the people they work with have been trying to stay positive.
"One of the really wonderful things that has happened is we have really banned together," said Lee. "We have shared supplies with one another, staff lists, and we have really supported each other in trying to make up the gap and sharing tricks of the trade. Although, there are still some organizations that are really suffering and have high numbers of staff and people with disabilities infected with Covid19."
To try and help people with disabilities during this time, SEEC has also set up a variety of online services including virtual coaching and check-in's, a virtual curriculum and have been sending supplies to engage people who may be stuck at home with their parents.
"It's been really amazing how we've been able to engage people that we never thought we would be able to engage through virtual learning and services," said Lee. "We have this real juxtaposition of people dealing with the illness of coronavirus, but we still have opportunities to engage people with intellectual disabilities to become better and to live really good lives and learn despite the fact that we are not physically together."