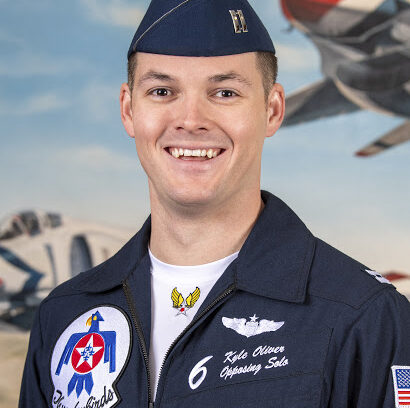 Around 11:50 Saturday morning, the U.S. Air Force Thunderbirds and the U.S. Navy Blue Angels will fly over this area in a show of support for medical workers, first responders and all those working during the pandemic.
After flying over Baltimore, the Thunderbirds and Blue Angels will fly over Prince George's Hospital Center at 11:45 a.m. and then head to Montgomery County where they are expected to buzz by Suburban Hospital and Walter Reed National Military Center in Bethesda and Holy Cross Hospital in Silver Spring.
By 12:05 p.m., the planes will fly over the National Mall.
A formation of six F-16C/D Fighting Falcon and six F/A-18C/D Hornet aircraft will conduct these flyovers in a collaborative salute.
Capt. Kyle Oliver will be piloting the Thunderbird's sixth plane on the far right wing.
He called this mission "really fulfilling for the team." The Thunderbirds "are very fortunate to be in the position to give back," he said, adding, "We are all in this together."
Oliver will only be able to catch an occasional glimpse of the people he is saluting as he said he needs to keep his eyes on the Thunderbird's number three plane.
Tomorrow's #AmericaStrong flyover serves as a salute to frontline #COVID responders.#InThisTogether 🇺🇸 pic.twitter.com/l7dSVDei3H

— Thunderbirds (@AFThunderbirds) May 1, 2020
However, those more able to view the crowds from their recent fly over the New York City area said that the onlookers were keeping the proper social distance.
Normally, large crowds are gathered, but the people who had come out to watch were spread out, "more sparodic," he said.
The military suggested that people should view the show from their own yards and not go to the hospitals.
Oliver called flying "a lifelong dream for me."
Oliver is the opposing solo pilot in the air demonstration squad and has logged over 1,200 flight hours, including more than 230 hours of combat experience.
He's been an Air Force pilot since June 2012. Before joining the Thunderbirds seven months ago, he was deployed twice in Iraq and Syria as part of Operation Inherent Resolve.