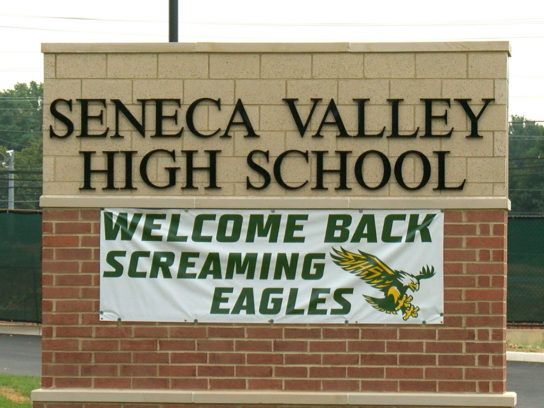 Seneca Valley High School in Germantown sheltered in place Wednesday after receiving a text message "threatening the safety of our school during the lunch period," Principal Marc Cohen informed parents.
A short time later, the students sheltered in place for about 15 minutes after a physical education teacher and some students thought they heard gun shots nearby during the last period of the school day. However, Montgomery County Police determined there was nothing to the report, said Chris Cram, director of Montgomery County Public School's Department of Communications.
Thursday at 6 p.m., Seneca Valley will host a Zoom meeting and "will share additional information about the events of the last few weeks," Cohen noted in his message to parents on their Facebook page. There will be a question and answer period included in the meeting.
On Wednesday, the school worked with Montgomery County Police and the MCPS School Safety and Security to provide extra security presence at the school. This has been going on all week.
"It is important to note that lunch occurred without incident. We had the necessary resources on site to ensure the safety of students and staff and we were able to do just that," Cohen wrote.
But for one 11th grade student, this reassurance was nowhere near enough.
"It was a scary day. It is nerve-wracking," said the student, who asked that her named not be used. "It's only the beginning of the year, and there have been multiple fights."
Wednesday, she was in class about to head to lunch when a classmate showed her a text on her phone that warned about a bomb at lunch. The text advised everyone to stay away from the cafeteria as there might be a gang fight, she said.
Even though it turned out to be just rumors and nothing happened, "It was still very scary. People were saying their parents were going to come pick them up."
Then, during eighth period, the principal came on the loudspeaker to say they must shelter in place, she recalled. Every time the principal's voice comes over the address system, "Everyone gets nervous. They think it is going to be a lockdown," she said.
About 15 minutes later, the students were dismissed for the day. All afterschool activities were canceled. The 11th grader knows several students who were too scared to walk home since they didn't know exactly what had happened.
Even if nothing happens, it is still frustrating, the student noted. She wishes that the school administration would let the students know what is going on. Otherwise, it is so stressful, she said.
She and her friends were planning to go to their school's football game against Northwest High School last weekend, but since the students were locked down for part of that day, they decided not to risk it.
There are so many rumors flying around, including reports of students hearing gunshots and seeing a gun at the football game, but the students are told these rumors aren't true, and the police didn't find evidence of gunshots.
Last year, the students learned virtually so this didn't happen, she said. During her first year at Seneca Valley, there were fights but not this often, she recalled.
"A lot of people think the school doesn't care" about the mental health of its students, she said, adding, some people are saying they don't want to go to school anymore.
Because of a reported incident in the community SVHS has entered a Shelter in place. I will share more information as it becomes available. @SenecaValleyHS

— Marc Cohen, Ed. D. (@marcjcohen) October 20, 2021
Related Post
Seneca Valley Football Game Ends Early Due to 'Series of Student Fights'