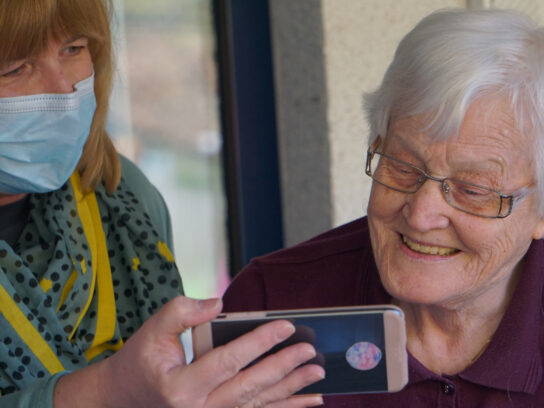 Senior Planet Montgomery will be offering free online wellness classes for senior residents, with a focus on "how to thrive at home" from March 1 through March 5.
Senior Planet Montgomery from AARP, is dedicated to helping seniors learn new skills, save money, get in shape, and make new friends. Its focus is to harness technology to change the way seniors age, with its slogan, "Aging with attitude."
The classes of the week will include topics such as "Lighting and Smart Bulbs" and "All Things Zoom." A variety of exercise classes will also be offered. Classes will be held live via video conference. In addition to English, two classes will be delivered in Spanish and one will be delivered in Mandarin.
Those who wish to participate can find the Zoom links along with the full listing and descriptions of the week's events through the Senior Planet Montgomery Events webpage.
Classes to be offered will include:
Lighting and Smart bulbs: Tuesday, March 2, 3-4 p.m. Lecture reviews common lighting terminology like watts and lumens and explains the differences between the many types of bulbs currently on the market. Learn which bulbs offer the most in terms of energy efficiency that can help lower utility bills.
Hello Montgomery County: Thursday, March 4, 2-3 p.m. Join fellow MoCo residents for an hour of socializing.
Money Matters: Thursday, March 4, 4-5 p.m. This presentation gives an overview of how the internet can open a new world for saving money and managing your finances. Topics will include online banking, keeping your financial information safe, entertainment, prescription drugs, and everyday items.
Fitness Apps: Friday, March 5, 11 a.m.-noon. This lecture covers different types of fitness apps for all goals. Discuss apps that can help track nutrition and activity, plan workouts, stay motivated and get better sleep. Learn about the benefits of fitness apps and popular apps in each category.
All Things Zoom: Friday, March 5, 2-3 p.m. Lecture will go over how to use Zoom to chat with friends and family, and how to take virtual classes with Senior Planet. Learn useful Zoom features on iOS, Android or Windows devices and important security considerations.