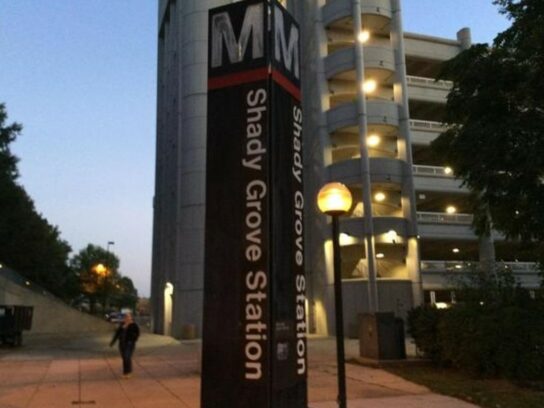 Orignally posted July 12.
The Shady Grove and Rockville Metro stations will close from Sept. 11-Dec. 4 for canopy improvements and other work, a statement from Montgomery County reminds residents.
Metro will replace the platform canopy at the Rockville station, "where the concrete beam structures, original to construction in the 1980s, are deteriorating," the county said. Also, new LED skylights, an upgraded speaker system, digital screens for passengers and CCTV security cameras will be installed. According to Metro, pre-construction activities for the project will start this summer.
At the Shady Grove station, repairs will be made to the aging canopy, as well as other safety work. Free shuttle/bus service will be offered at closest stations.
Also starting this month, the Red Line will single track continuously to upgrade its underground tunnel ventilation system. Metro expects this work "to cause significant impacts for customers, with around-the clock single tracking and station closures," according to a news release.
A summary of service information, per the county's statement:
July 17 – Aug. 29

Continuous single tracking between Dupont Circle and Van Ness stations.
Trains will operate every 18 minutes between Shady Grove and Glenmont.
Additional trains will operate between Glenmont and Farragut North from opening until 7 p.m. on weekdays only to provide more frequent service.
Customers can use Metrobus Route L2, which runs along Connecticut Avenue between Chevy Chase Circle and Farragut Square as an alternative.

Weekends of Aug. 7-8 and Aug. 28-29

Red Line trains will operate in two segments: Shady Grove to Van Ness and Dupont Circle to Glenmont.
Free shuttle buses replace trains between the Dupont Circle and Van Ness stations.
Cleveland Park and Woodley Park stations will be closed.

Additional weekend shutdowns and single tracking may be necessary in 2022 to allow for safety testing.

Sept. 11-Dec. 4
Red Line trains will operate normal service between Glenmont and Twinbrook only.
Free shuttle buses replace trains between Shady Grove and Twinbrook stations.
Shady Grove and Rockville stations will be closed.
Park & Ride customers at Shady Grove and Rockville can use Twinbrook or White Flint as an alternative.
MARC and Amtrak service will operate at Rockville with no service disruption.
Due to the staging of heavy equipment and construction materials, Metrobus and other bus service will be rerouted. Additional details will be provided at a later date.
🆕Red Line riders take note! @wmata has announced that two projects to improve safety will impact Metro riders of the Red Line from July thru December.
📰 Read the news release ➡ https://t.co/zkzKzglWwh. https://t.co/AFHH2n8BKS

— Montgomery County MD (@MontgomeryCoMD) July 12, 2021
[hr]
Previous Post: 
Upgrading Red Line Tunnel Ventilation Will Mean Single Tracking Beginning in July