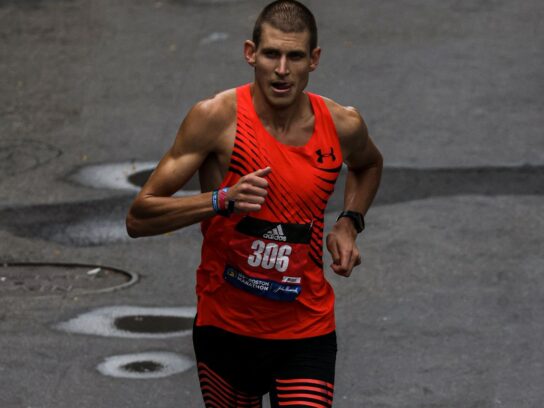 Jordan Tropf of Silver Spring just loves to run. He loves to train. He loves to compete. He loves the quiet, and he loves to check out the scenery along Paint Branch, Sligo Creek and Matthew Henson trails. He also loves going to Olive Garden the night before a race and piling on the carbs.
So when the calendar aligned to include three major marathons on three consecutive days, he eagerly joined them all. He took second place in the Baltimore Running Festival on Oct. 9, completing the race in two hours, 27 minutes and 24 seconds. That is the equivalent of running one mile every five minutes and 53 seconds.
The next day, he ran in the Bank of America Chicago Marathon where he placed 63rd overall, finishing in two hours, 31 minutes and 54 seconds. The very next day he stepped onto the starting line for the Boston Marathon, where he placed 110th overall, finishing the marathon in two hours, 32 minutes and 40 seconds.
Tropf has been running since his high school days in Cleveland, Ohio. His team won the state championship, and he was hooked. The 29-year-old attended the U.S. Naval Academy, but was injured early in his first year and didn't compete for the service. However, he joined the marathon club there and is a lieutenant.
His next stop was the Johns Hopkins University medical school. He currently is in the fourth year of a six-year residency in orthopedic surgery at the Walter Reed National Military Medical Center in Bethesda. He hopes one day to specialize in trauma surgery and help those injured while serving in the military.
While his wife, Hannah Tropf, didn't run in these recent marathons, she "is the better runner," and was All-American when she attended Georgetown University, he declared. .
Three days after his marathons and while he was still busily replacing the calories he used up during the runs,  Tropf spoke with MyMCM.
Related Post
Silver Spring Man Completes 3 Marathons in 3 Days. Wait What?