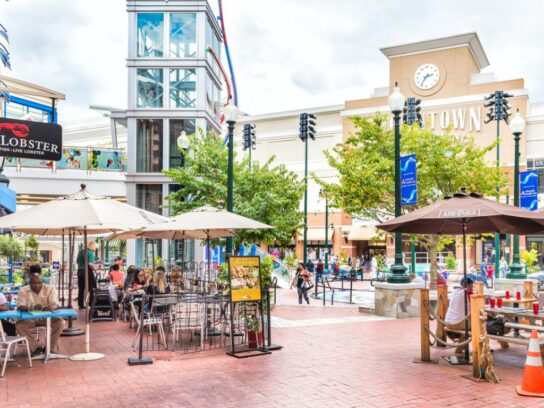 About a week after debuting a 25-foot tall interactive flower sculpture, Downtown Silver Spring soon will welcome new stores and restaurants. Peterson Companies, which has committed $10 million toward the revitalization the area, also announced the return of the Regal Majestic movie theater and a pedestrian-only Ellsworth Drive.
Beginning May 10, vehicular access to Ellsworth Drive will be eliminated. It had welcomed cars onto this popular, restaurant-and-store-filled-street during the pandemic to encourage curbside pick up for restaurants and retailers. With the temperature climbing, those same restaurants can return to providing outside dining.
The Regal Movie Theater, 900 Ellsworth Drive, is slated to reopen May 21.
On May 10, activities and events will resume, starting with a Zumba series presented by Adventist Healthcare on Monday evenings, by reservation. Several new tenants were announced, including Ultra Nail Bar; DogHaus with its wieners and craft beers; Flip'd by IHOP, Sleep Number and XOA Lifestyle.
A 300-foot-long street mural by Chalk Riot, a D.C.-based public arts production company that specializes in pavement art and interactive murals, will be installed in late May.
Bistro tables and chairs, shade umbrellas and colorful planters will dot the street.
"We wanted to make the entire property an uplifting and welcoming experience," explained Laurie Yankowski, regional marketing director for Peterson Companies. "It's not only a great place for shopping, dining and entertainment; it's truly the heart of the community," she added.
Thrilled to share news that Ellsworth Dr will return to a pedestrian-friendly environment on 5/10.
TY to the @PetersonCos for the productive convos we've held & the advocates for urging this move.
Can't wait to stroll down Ellsworth Drive! #VisionZero

— Tom Hucker (he/him) (@tomhucker) April 27, 2021
Related Post
Downtown Silver Spring's New Art Installation Features Two-Story High Flowers