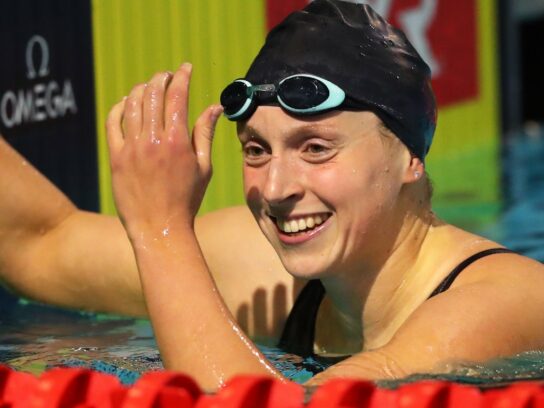 Six athletes with strong ties to Montgomery County will compete for Team USA in the upcoming Summer Olympics in Tokyo. Combined, the six athletes look to add to previous wins that already includes nine Olympic gold medals and one silver. The group includes two of the world's most notable athletes, a pair of wrestlers with sights set on defending their Olympic gold and two swimmers making their Olympic debuts:
THE STARS
Swimmer Katie Ledecky was Team USA's most decorated female Olympian at Rio 2016. The Stone Ridge School 2015 graduate, who grew up in Bethesda competing in the Montgomery County Swim League for the Palisades Porpoises, won four gold medals and one silver at Rio. That came four years after winning her first gold medal at the London 2012 Olympics. Ledecky is a heavy favorite to win multiple gold medals in Tokyo, where she is scheduled to swim in five events.
Thank you Omaha and @USASwimming for a great #SwimTrials21! Thanks to my family, teammates, coaches, and many more for the support and cheers. I'm excited to be heading to my third Olympic Games with @TeamUSA! pic.twitter.com/WoomyUlDPU

— Katie Ledecky (@katieledecky) June 20, 2021
Basketball player Kevin Durant grew up in Prince George's County, but as a high school senior attended Montrose Christian School in Rockville in 2006, where he played in one of the most memorable scholastic basketball games of all time, a 74-72 overtime victory against Oak Hill Academy. A two-time NBA champion and 11-time all-star, Durant has helped Team USA win gold at the past two Summer Olympics.
Kevin Durant is going to the @Olympics! 🏀

The basketball star joins a star-studded lineup on the USA roster that also includes Damian Lillard and Zach LaVine. 🇺🇸

Find out all the details.@KDTrey5 | @usabasketball | @Dame_Lillard | @ZachLaVinehttps://t.co/6NBdHJSMkl

— #Tokyo2020 (@Tokyo2020) June 28, 2021
THE GOLDEN WRESTLERS
Helen Maroulis pulled off a stunning upset to win the gold medal at 53 kilograms at Rio 2016, becoming Team USA's first-ever female wrestling champion. A Rockville native who wrestled at Magruder High for three years and was the first girl to place in a Maryland high school wrestling state tournament, Maroulis sustained a head injury during a match in 2018. She endured concussions, post-traumatic stress disorder and shoulder surgery before recovering and claiming her spot to wrestle at 57kg at the U.S. Olympic Trails this spring.
Kyle Snyder, who attended Good Counsel High School in Olney and is one of the most decorated American wrestlers of all time, will try to repeat as the Olympic champion at 97kg. Snyder, who also was a standout football player at Good Counsel, was 179-0 as a high school wrestler before opting to spend his senior year training at the U.S. Olympic & Paralympic Training Center in Colorado Springs. He won three NCAA championships at Ohio State University and in Rio, at 20 years old, he became the youngest U.S. wrestler ever to win a gold medal.
More about the 1⃣5⃣ wrestlers who are already Tokyo-bound ≫ https://t.co/I6uJ2GT4F5 pic.twitter.com/xjC807Km9Y

— Team USA (@TeamUSA) April 6, 2021
THE NEWCOMERS
Phoebe Bacon, a member of the Stone Ridge School of the Sacred Heart Class of 2020 who is entering her sophomore year at the University of Wisconsin, will compete in the 200-meter backstroke. Bacon, 18, earned her spot in the Olympics with a thrilling finish at the U.S. Olympic Trials, chasing down world record holder Regan Smith on the final lap to claim Team USA's second and final berth for the event in Tokyo.
Stay sizzling, @BaconSwims1.

Phoebe Bacon secures a spot in the 200m backstroke at the #TokyoOlympics. #SwimTrials21 pic.twitter.com/KX7ji9k1Go

— Team USA (@TeamUSA) June 20, 2021
Andrew Wilson, a 27-year-old from Bethesda who grew up swimming at Kenwood Country Club, is one of the most surprising members of Team USA. A testament to perseverance, Wilson is the first athlete to compete in NCAA Division III (at Emory University) and qualify for the U.S. Olympic Swim Team. He narrowly missed qualifying for the Rio 2016 Olympics but decided to give it one more go and dedicated himself over the past five years, searching for every tenth of a second that he could improve. Wilson achieved his goal, qualifying for the 100 and 200 breaststroke in Tokyo.
👀 Look out for Andrew Wilson 👀

You'll be seeing him in both breaststroke events!

Welcome to the Olympic team, @awil5504! 💪 pic.twitter.com/bPeodEAUwo

— USA Swimming (@USASwimming) June 21, 2021
Additionally, one more Montgomery County resident will travel to Tokyo as part of Team USA. Gymnast Kayla DiCello, a rising senior at Northwest High School in Germantown, was selected as an alternate for the U.S. Women's Gymnastics Team. DiCello will continue training in case she is needed to fill in if one of her teammates is unable to compete.
Related posts:
Boyds Teenager Kayla DiCello Selected as Alternate for U.S. Women's Gymnastics Team