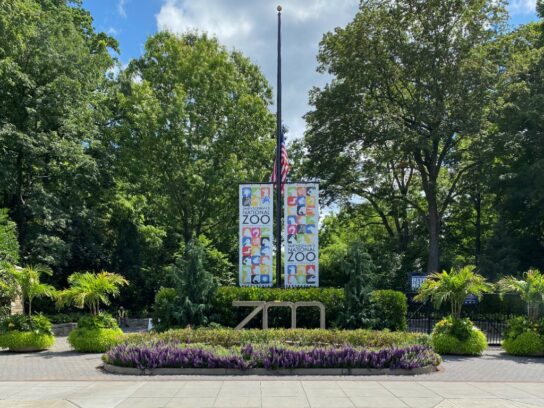 The Smithsonian National Zoo and Air and Space Museum's Steven F. Udvar-Hazy Center are reopening this Friday, July 24 with health precautions in place. Visitors can now order free timed-entry and parking passes online or by calling 1-800-514-3849, ext. 1.
At this time, the Smithsonian is just starting their reopening phase with these two centers, according to a press release on the Smithsonian's website. There will be 5,000 timed passes available each day for the National Zoo and 1,500 for the Air and Space Museum to limit the number of people at each center.
The Smithsonian's press release explained why these were the first to reopen, "These first two locations were chosen based on factors such as the ability to facilitate crowd management and social distancing, the ability to maintain a hygienic environment and availability of parking at both locations. The National Zoo is a 163-acre outdoor park, and the Udvar-Hazy Center consists of two large hangars totaling more than 300,000 square feet of exhibition space."
Some health precautions visitors are asked to follow include:
Following social distancing and directional instruction at proper times
Visitors six years and older have to wear face masks
Visitors that feel sick are asked to stay home
Utilizing the provided hand sanitizers stations
The Zoo will open from 8 a.m. to 4 p.m. and the Air and Space Museum from 10 a.m. to 5:30 p.m. each day. Some exhibits are still closed or at limited capacity and tours are not available for now. More information about open facilities can be found on the National Zoo and National Air and Space Museum websites.
The @NationalZoo & @airandspace Steven F. Udvar-Hazy Center reopen on Friday, July 24! 🦁 🐘 🐼 Roar, trumpet, honk, bleat and chirp the news! We look forward to welcoming you back! Learn more about our new safety measures: https://t.co/A1OOvz9RGV @smithsonian pic.twitter.com/gtJoHywu4A

— National Zoo (@NationalZoo) July 20, 2020