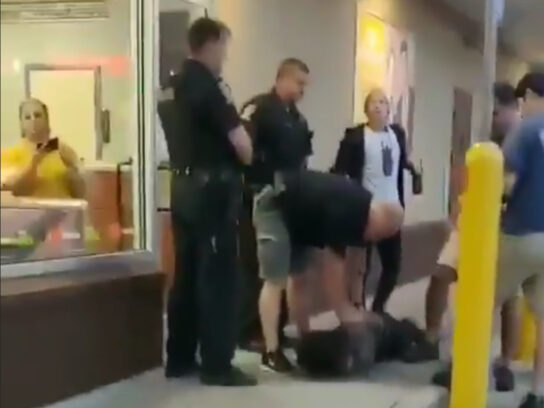 Katie Stauss of the Silver Spring Justice Coalition called the two-year probation sentence given to Montgomery County Police Officer Kevin Moris "a real slap on the wrist and not very meaningful."
Moris was found guilty in December 2019 of second-degree assault and not guilty of misconduct in office in a July 3, 2019 incident in which Moris held handcuffed Arnaldo Pesoa, of Silver Spring, on a sidewalk outside a McDonalds in Aspen Hill with his knee on his head.
"It was not simply a bad apple type of situation where Officer Kevin Moris kneed this resident and slammed his face into concrete. All of the officers, and I believe there were at last six officers you can see in the video in Aspen Hill, just stood there like everything was completely normal," Stauss said.
She told Montgomery Community Media that Moris should be decertified so that if he were let go by MCPD, other jurisdictions wouldn't hire him.
The incident occurred while Moris was undercover and arresting Pesoa for drug-related charges around selling psychedelic mushrooms.
On Aug. 31, Moris was sentenced to 90 days in prison, which was all suspended, and two years of supervised probation, according to online court records.
Moris remains on paid administrative leave until his administrative investigation is completed, explained Captain C. Thomas Jordan, MCPD public information officer. That investigation is expected to begin following the conclusion of all Moris' criminal proceedings, Jones wrote in an email, adding, "I don't expect the admin[istrative] side of things to take too long."
Previous post:
MCPD Officer Sentenced to Probation for Kneeling on Silver Spring Man's Head in 2019