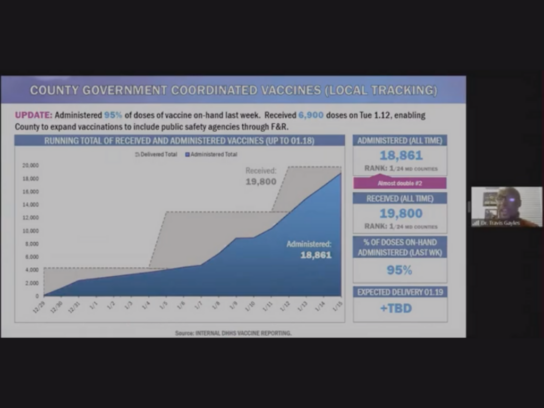 During a virtual town hall Tuesday night, Montgomery County leaders voiced frustrations about the insufficient number of COVID-19 vaccines the community has received and the lack of state and federal coordination surrounding vaccine rollout.
"We are prepared to register you. We are prepared to vaccinate you," County Executive Marc Elrich told attendees. "We just need the vaccines to do the vaccinations."
About 95% of the 19,800 doses the county has received so far have been administered, according to data presented by County Health Officer Dr. Travis Gayles. The county health department — which is responsible for vaccinating everyone not affiliated with a hospital, nursing home or long-term care facility — has administered the most vaccines out of the the 24 Maryland jurisdictions.
But only 3% of county residents have been inoculated so far.
Council Vice President Gabe Albornoz, who chairs the health and human services committee, said the county has the capacity to vaccinate between 2,500 and 3,500 people a day, but there aren't enough doses available to meet that pace.
Maryland receives 72,000 doses weekly from the federal government. Montgomery County got about 7,300 first-round and 4,300 second-round vaccinations this week after they were parsed out to different parts of the state.
Gov. Larry Hogan cleared another phase of residents to start vaccinations this week, but Elrich said the county still had 14,000 people in the first group — comprised of health care workers — who had not yet been taken care of.
People in the three tiers of Priority 1A are currently being vaccinated, while adults who are 75 and older can preregister for an appointment.
"Across the nation, local governments like ours are responsible for deploying COVID vaccinations on our own because there's been no clear implementation plan from the federal government, and because vaccine distribution is occurring on a rolling basis in every state," said Council President Tom Hucker.
Over 2,300 community members registered for the event, which Hucker said was planned after the governing body received an "overwhelming number" of questions about vaccine availability in the county.
On the eve of President-elect Joe Biden's inauguration, county officials said they're hopeful the incoming administration will improve federal-level vaccination planning and accelerate production. They also stressed the need for the state to coordinate with its counties.
"Many of us are counting on a new president figuring out a way to get those vaccines out into the public…but at the end of the day," Elrich said, "we're going to need the governor to work with all the counties to come up with plans."