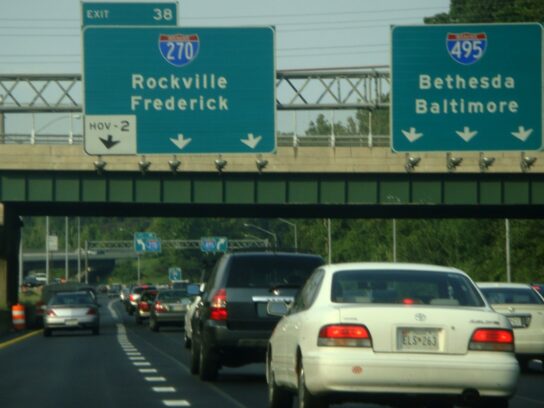 The Maryland Transportation Authority Board Tuesday unanimously approved several measures that pave the way for a public-private partnership that will widen and add toll lanes on I-495 from the American Legion Bridge to Old Georgetown Road and on I-270 from the spur to I-370.
No construction work was approved at the early morning meeting. Instead, the board approved a predevelopment process and began a 30-day period of public and legislative review. The project's approval is conditional on a positive vote by the Maryland Board of Public Works, which is expected in July.
The board's approval for the prework is for Phase 1 of the project, which does not include work on I-495 past the I-270 spur east through Chevy Chase and Silver Spring.
In Phase 1, the American Legion Bridge, which was opened in 1962, will be replaced with bike lanes included. Four high-occupancy toll  lanes – two in each direction – are planned. Buses and carpools will not be charged a toll. The plan does not include any property taking.
In February, the state chose Accelerate Maryland Partners to oversee the predevelopment work. AM Partners is a joint venture with Transurban and Macquarie Capital as lead project developer and equity members.
One of the losing bidders, Capital Express Mobility Partners, protested the board's decision and has filed an appeal. No hearing date has been set for that appeal, but Jeffrey Folden, deputy director the project for Maryland Department of Transportation, told the board the appeal is filled with "inaccurate allegations." He advised board members to continue with their work and not wait for that appeal to be heard.
Folden also told the board that about 90% of traffic has returned to these roads and that traffic "has largely recovered."
Deborah Sharpless, chief financial officer at Maryland State Transportation Authority, advised board members that the project carried little risk of exposure for the state as Maryland's principle responsibility is collecting tolls and then paying the developer from that money.  "Our risks are very low, because this is what we are good at," she said.
Should traffic volume decrease greatly, it would only harm the developers, she said. "That risk is on them. There is no guarantee about a certain amount of revenue."
Opponents of the project have urged the board to complete all environmental reviews before voting. Once the project was scaled down into phases, new studies should have been conducted, said Arthur Katz of Citizens Against Beltway Expansion. He urged the board to first learn how the project would affect communities of color and global warming and whether increased telework has lessened the need.
"Why rush this contract forward?" he asked.
Edgar Gonzalez, executive director of Suburban Maryland Transportation Alliance, urged the board to proceed as it will help ease traffic on "one of the most congested segments" of roads in the state, he said. He called opponents of the project "the same opponents for 50 years that have opposed every single road project in Montgomery County."
Gonzalez was chief transportation engineer and deputy director of the Montgomery County Department of Transportation for 30 years.
Elected officials from Montgomery, Frederick & Prince George's Counties with MTOC's @BenRossTransit & @GaryVHodge1 at today's "Stop the P3 Boondoggle" rally pic.twitter.com/nXbJ4vUakM

— MTOC (@TransitforMD) June 8, 2021
About three hours after the board voted, Montgomery County Executive Marc Elrich, Council President Tom Hucker, Maryland Sen. Will Smith, Rockville Mayor Bridget Newton and members of several organizations opposed to the P-3 arrangement gathered at the First Baptist Church of Rockville for a rally. About 150 attended.
Elrich called the plans "irresponsible, and it's flat out wrong." He urged the state to include rail options and to ask the Biden Administration to include the American Legion Bridge in its infrastructure plans.
In a statement by U.S. Rep. Jamie Raskin, who did not attend the rally, the Congressman from the 8th District said the project would negatively affect "our land and our water for generations." He questioned why such a large project that recently was changed in scope needed to be "so jammed through." He also wondered why new financial figures were not made public now that the plans do not include parts of I-495.
Linda Rosendorf of DontWiden270 wrote in a news release, "This is a traffic jam plan, not a traffic relief plan." She added, "Seven lanes of traffic on I-270 will merge into two lanes north of Shady Grove. The backups at the merges will be even worse than they are now."
Democracy at work at today's "Stop the P3 Toll Lane Boondoggle" rally while the MDTA Board rubber-stamped a contract that could put Maryland's transportation policy in the hands of private profiteers for 50 years pic.twitter.com/rO0kLko138

— MTOC (@TransitforMD) June 8, 2021
Related Post
Maryland Scales Back Beltway Widening; No Work on 495 East of 270 Spur