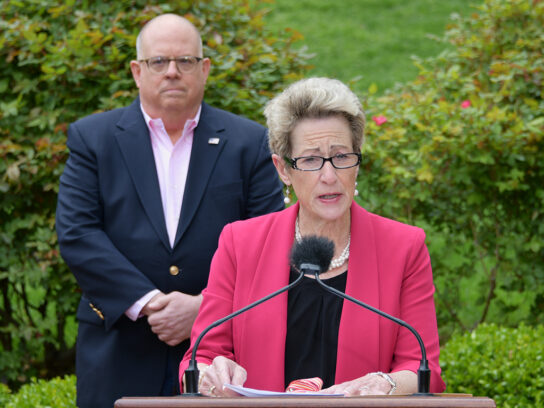 The Maryland Department of Health and Department of Education released guidance for how Maryland schools should respond to a COVID-19 outbreak when in-person instruction begins and what districts need to prepare for. 
At a press conference with Gov. Larry Hogan on Wednesday, State Superintendent Dr. Karen Salmon emphasized that a COVID-19 "outbreak" means one case. The guidance for school systems responding to an outbreak includes communication between schools and parents, helping local health departments with contact tracing and how to safely isolate and remove a student or staff member who shows symptoms of respiratory illness during the day. 
On Tuesday, Montgomery County Public Schools (MCPS) Superintendent Dr. Jack Smith announced that learning will be virtual-only for the first semester, which ends Jan. 21, 2021. 
Media briefing from MCPS Superintendent Smith: He says Dr. Gayles said over the weekend and on Monday that based on current data he would not recommend in-person school at this time. @mymcmedia

— Maryam Shahzad (@maryam_mcm) July 22, 2020
At an MCPS media briefing Wednesday ahead of Hogan's, Smith said Maryland needed to create a consistent statewide set of protocol for response to an outbreak in schools that would be the same for every county. He also said the education department needs to continue its quick action and be fast when policies need to change. For example, Smith said, the state student service learning requirement needs to be changed as the current academic climate makes it difficult to fulfill. 
"It's a very different world, they need to change that right now for all the students who are in place and under that system right now until things go back to a way of working that allows for that," Smith said. 
"And then we just need to continue to hear where the state is, and where it's headed. So we need some consistency and we need some flexibility always. Those things are very important."