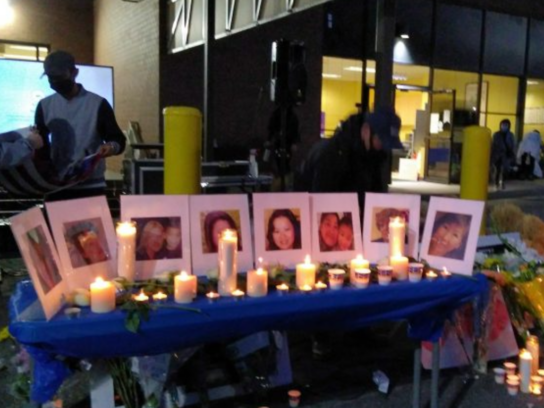 The Chinese American Parent Association of Montgomery County (CAPA-MC) held a candlelight vigil and "March for a Hate Free America" Sunday night in the wake of the tragic mass shooting in Atlanta on March 16 where eight lives were lost including six Asian women.
The event took place outside the Chinese Culture and Community Service Center (CCACC), an organization dedicated to "enhancing the quality of life and well-being of Chinese Americans and the community-at-large."
The Atlanta shooting was an event that struck great concern for the Asian American and Pacific Islander (AAPI) community, leading to demonstrations across the nation in solidarity with them, condemning the racism and rise of hate crime cases surfaced as a result of anti-Asian rhetoric associated with the COVID-19 pandemic.
The Gaithersburg vigil was held with that same goal. With over 300 on-site participants and another 323 viewers on the event's YouTube live stream, the vigil included a series of speeches from Asian community members as well as orchestral performances from local musicians. The event commemorated the lives of those lost while sharing personal stories of the Asian American experience and raising awareness of anti-Asian violence.
Over 30 speakers presented at the podium including Ting Mei Chau, President of CAPA-MC. "The struggles are real — on one side we are model minorities, with scientists helping on all aspects in the frontlines of COVID-19, on the other side we are foreigners seeming to be "too foreign to be integrated." On one hand we are told this year is not 1882 with the "Chinese Exclusion Act," on the other hand we hear vividly "you don't belong here." On one hand in America only the sky is the limit, on the other hand less and less opportunities and rooms are for people like us. On one hand we live in a great country that affords all who live here the right to be treated equally, but on the other hand we fear for ourselves, we worry about negative perceptions, and we feel the sorrow and angst that comes with those concerns," stated Chau.
CAPA-MC released their official statement on the Atlanta shooting where they stated, "While we are grateful that no such senseless crime has happened in Montgomery County, the anxiety and fear in our community is real. Locally, just last month, Asian businesses were targeted and vandalized at our neighboring Howard County."
Chau expressed in his speech the importance of action and continuing "to work to stop hatred in all of its forms."