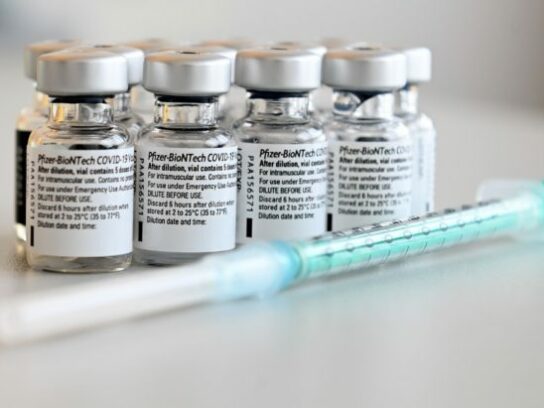 A mass vaccination site will open at the Montgomery County College Germantown campus on April 5, and local leaders say it is expected to have the capacity to administer 3,000 COVID-19 doses per day.
"This is critical for many of our residents… this is a seven day a week operation," said Montgomery County Executive Marc Elrich during his weekly virtual media briefing on Wednesday.
The county will continue to work with the state and other partners over the next couple of weeks to finalize the logistics for the mass vaccination site.
"We'll have meetings again with the Maryland Department of Health on various issues between the registration system the state utilizes, as well as staffing and other things we're getting support on from the state," said Montgomery County Office of Emergency Management Director Dr. Earl Stodddard during the briefing.
MyMCM tuned into the briefing to get more details about what the county is doing to prepare for the mass vaccination site's opening and what it means for other vaccination clinics in the county.
Just like other mass vaccination sites across the state, the Montgomery College Germantown campus location will have its own allotment of shots from the state, according to county officials.
Gov. Larry Hogan mentioned this week that there's an impending increase of vaccine doses expected from the federal government to meet the high demand.
"I suspect that a big chunk of that increase will be used over the coming weeks to fuel the sites at Montgomery College and in Baltimore county and the additional sites that will come on board thereafter," said Dr. Stoddard.
Montgomery County officials say they will reveal more details about the mass vaccination site as they continue planning for its opening.
"The site will look potentially different from the first day we operate it to when we reach our peak… a lot of things are still to be determined," added Dr. Stoddard.
Montgomery County Office of Emergency Management Director Dr. Earl Stoddard says the county has been meeting with state officials to talk about the mass vaccination site's logistics- including the registration system, staffing, and transportation options for residents.@mymcmedia

— Jordan Lindsay (@TVJordanLindsay) March 24, 2021
See related posts below:
Hogan Confirms Mass Vaccination Site Opening in Montgomery County Week of April 5