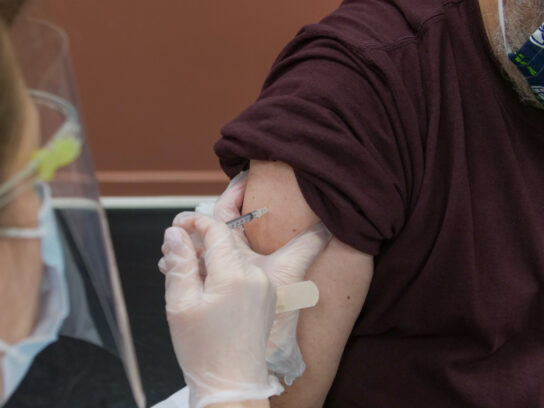 State officials are "definitely interested" in the COVID-19 mass vaccination site proposed for Montgomery College's Germantown campus, Montgomery County Emergency Management and Homeland Security Director Dr. Earl Stoddard said during a council meeting Tuesday.
"So much so that they are going to walk-through with the National Guard [sic] as sort of a pre-visit to look at the site logistics and help us with some of our thinking about how we plan around that," Stoddard said. A mass vaccination site has not yet been approved in the county; Stoddard said the state believes its COVID-19 vaccine allocation from the federal government will not increase before April 1, so it's hesitant to commit to a site until it is more confident doses will increase.
The county is moving forward in its partnership with Holy Cross Hospital to plan and develop the Montgomery College site. Although the state has not confirmed a site at the Germantown campus, Stoddard indicated the county wants to prepare the site so the state can't refuse when doses increase.
"They haven't said no, but they just haven't said yes either. And so we're continuing with our planning efforts. Our goal is to do as many of the logistic things up front as possible to make it as difficult for them to say no once the state has more vaccine available to it in a few weeks," Stoddard said.
He said he is seeing progress in talks with state officials, and he's seen a difference in the "tone and tenor" of conversations.
"Being involved, certainly, in the mass vaccination site conversation, I am seeing movement– we haven't gotten a firm yes — but we're seeing movement in the right direction," Stoddard said. "I think in part because the voices of all the people you talked to — our congressional delegation, the council, the executive — I feel like all of those advocacy points are making a difference and moving it in the right direction."
"There's a whole lot of critique and criticism coming to the governor, rightfully so, right now, and so I feel like in some cases they feel like– just adding to the pile. But I do functionally see on the ground there being a difference in the tone and tenor of the conversations."
Montgomery County Department of Health and Human Services (DHHS) said it expects to receive 4,500 first doses this week, which is generally consistent with recent weekly allocations. Last week, Stoddard said at least 150,000 residents are included in vaccine Group 1B, tiers 2 and 3, and Group 1C tier 1, which the county began offering vaccine appointments to last week.
Last week, the county health department also received its first supply of the Johnson & Johnson (J&J) vaccine: approximately 1,600 doses. DHHS Health Officer Dr. Travis Gayles said he expects those doses will be fully used by the end of Wednesday. Due to capacity restrictions, there will not be additional J&J doses available for at least two weeks. Gayles said based on information received from the federal government, he hopes national supply will increase in about two weeks so distribution to states can resume.
The county has urged the state for more doses. On Monday, The Baltimore Sun reported the state sent a disproportionately small supply of vaccines per-capita to larger counties. The Sun looked at data from the first 11 weeks of vaccinations. Montgomery County Councilmember Hans Riemer (D, At-Large) said the county can get the doses out itself if it has them, and should do more to push for a per-capita dose allocation.
"I think our residents are finding it to be almost an effort to humiliate the county," Riemer said.
"It makes no sense– why don't we have the state making a full effort here in Montgomery County? And to both deny us a mass vax site and not to increase our dose allocation is outrageous. And they are seeking to deny this county's residents access to the appropriate share of doses."