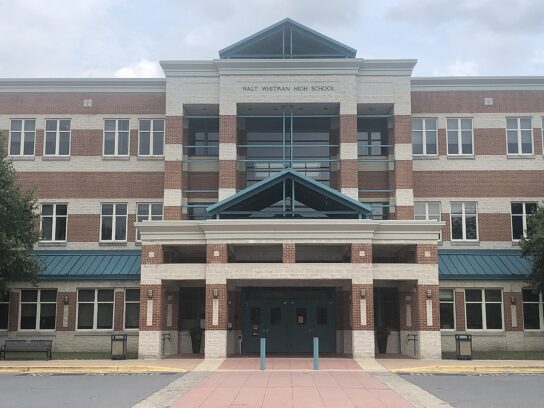 Update (Sept. 18): Court records show that the student who hit a classmate with a frying pan at Walt Whitman High School in Bethesda faces first-degree assault charges.
Police identified the student who was arrested at Whitman Monday morning as 19-year-old Prince Cutchember of Bethesda. Cutchember is being held without bail at the Montgomery County Detention Center in Rockville and is scheduled for a preliminary hearing about the charges on October 11, according to court records.
Robert Dodd, the principal of Whitman, emailed the school community about the incident on Monday. In the email, Dodd said the assault occurred during the fourth period.
"Our security staff and the Montgomery County Police Department responded quickly and the student was arrested. As a result, we held students in the fourth period until the situation was resolved."
Dodd also clarified that the fire alarm that was activated in the school at 11:15 a.m. that morning—causing the student body to evacuate the building—was unrelated. Students re-entered the building by 11:35 a.m. after the fire department cleared the building.
"As always, safety and security are our first priority. We appreciate the responsiveness of the Montgomery County Police Department and Fire and Rescue," Dodd said.
---
Original Post (Sept. 16)
Student Assaulted with Frying Pan at Walt Whitman High
A student at Walt Whitman High School was assaulted with a frying pan this morning at around 10:41 a.m., according to Montgomery County Police Department.
MCP responded to Walt Whitman HS (7100 Whittier Blvd) in Bethesda at approx. 10:41 am for report of assault involving 2 male students. Victim assaulted w/ frying pan. Suspect was taken into custody by officers. Victim treated & released at school. No other reported injuries.

— Montgomery County Department of Police (@mcpnews) September 16, 2019
The story was first reported by ABC7.
According to Rick Goodale, a spokesperson for MCPD, the student who assaulted the other student was taken into custody by officers. Goodale said the student who was hit was treated at the school by Montgomery County Fire and Rescue Services, but he was not taken to the hospital.
Montgomery County Public Schools hasn't responded for comment on the incident.