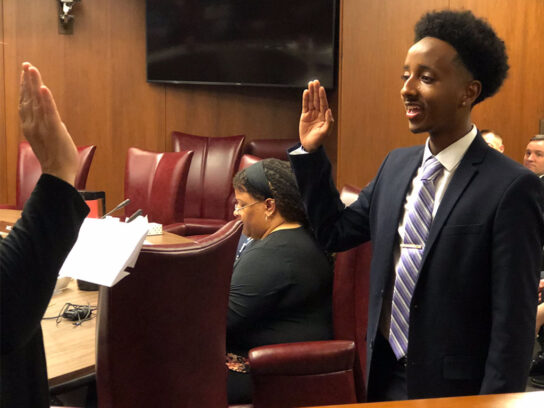 Student Member of the Board (SMOB) Nate Tinbite proposed that Montgomery County Public Schools (MCPS) give high school students the option to get half of their physical education (P.E.) requirement by joining a school sports team. 
https://twitter.com/NateTinbite/status/1177315198815940608?s=20
Maryland requires high school students to get at least one half-credit of P.E. in order to graduate. Prince George's, Frederick and Howard counties follow this half-credit requirement, however MCPS requires one full credit. 
A half-credit class lasts one semester, and a one-credit class lasts one full school year. 
Tinbite said that students who take advantage of the change could use the extra semester to take a class they otherwise could not. His proposal said that "Montgomery County High Schools' students often experience difficulty finding space in their schedules for all desired courses." 
Alex Tsironis is an MCPS arts/P.E./health resource teacher who also started the popular sites The MoCoShow and MoCoSnow. He doesn't agree with Tinbite's proposal, and wants MCPS to maintain its one-credit requirement. 
https://twitter.com/MoCoAlexT/status/1177017979470565376?s=20
"Sports is kind of like a specialization of an activity… P.E. is about general physical preparedness," Tsironis said in an interview with MyMCMedia. "It's about knowing the skills that are necessary to remain active for a lifetime rather than how to play a sport."
Tsironis said class learning has different guidelines and curriculums from extracurricular activities, and cannot be replaced. 
"If you're writing on your own time outside of school, should that count for English credit? What you're doing outside of school might be very serious and very real and very important, but it's not what you're learning in class… It doesn't necessarily cover the standards that a class would," he said. 
Tinbite asked Superintendent Jack Smith to review his proposal and give his recommendations to the school board by February.