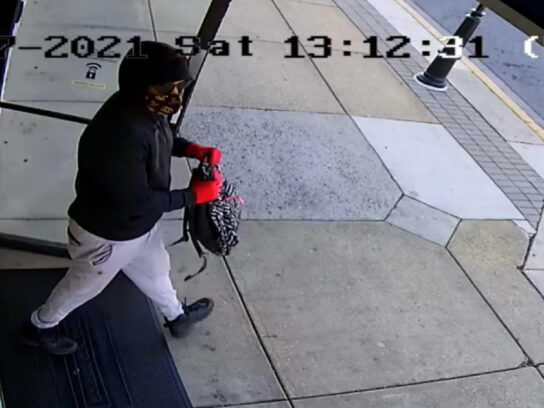 Detectives from Montgomery County Department of Police – Major Crimes Division have released surveillance video of a suspect involved in an armed robbery at a Dollar General in Silver Spring last month.
According to MCPD officials, at approximately 1:25 p.m. on Nov. 27, officers were called to the Dollar General at the 13800 block of Outlet Drive for an armed robbery.
Detectives say a person wearing gloves entered the store posing as a customer before heading to the back where the manager on duty was. The suspect then showed the manager a black handgun. After ordering the manager to open the cash safe, the suspect fled the store on foot heading in the direction of Briggs Chaney Road.
Detectives hope the community will be able to recognize the individual in the surveillance footage and ask anyone with information to contact the Major Crimes Division at 240-773-5070.