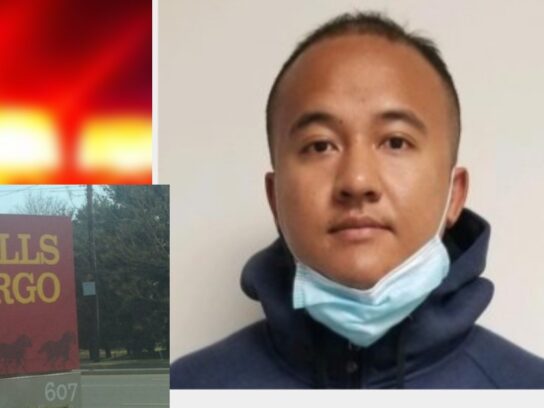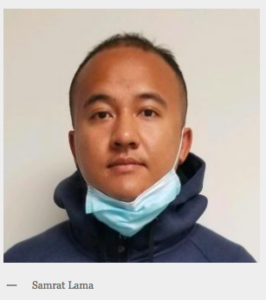 Update (October 8): Officers from both the Montgomery County Police Department and Gaithersburg Police Department arrested and charged 30-year-old Samrat Lama for the armed robbery of a WellsFargo bank in Gaithersburg on Tuesday.
An employee called 9-1-1 shortly after 10:00 a.m. and stated that the bank located on the 600 block of North Frederick Avenue was being robbed. Officers arrived approximately two minutes after receiving the call and found Lama still inside; he was taken into custody.
An investigation revealed that Lama entered the bank and told an employee he was interested in opening a savings account. According to an MCPD press release, Lama took a knife from his book bag during the interaction and pointed it at the employee and demanded money from the tellers. He then placed the money in a trash bag that he had removed from his book bag. Lama also went to the drive-thru teller and demanded more cash. As Lama returned to the bank lobby, he was met with officers where he was arrested.
Lama was transported to the Central Processing Unit and charged with armed robbery. He is being held without bond. Authorities say there were no injuries.
[hr]
Original Post (October 6): Montgomery County Police are investigating an armed bank robbery at a Wells Fargo in Gaithersburg.
On Tuesday, police responded to the 600 block of N. Frederick Avenue shortly after 10:00 a.m. Authorities say the suspect is in custody and a weapon was recovered. There are no additional suspects at large.
There were no injuries reported. MCPD says additional details about the suspect will be released soon as the investigation continues.
MCP investigative armed bank robbery at 607 N. Frederick Rd in Gaithersburg.

Suspect is in custody and weapon was recovered.

No add'l suspects at large.

Initial call rcvd at 10:02am

Add'l details provided as info is confirmed.

— Montgomery County Department of Police (@mcpnews) October 6, 2020