Gold Design, a jewelry store in Takoma Park, was robbed Dec. 24 by three suspects, who of whom fired a long gun into a jewelry case.
At 4:15 p.m. on Christmas Eve, Takoma Park Police responded a the 7600 block of New Hampshire Avenue for the report of an armed robbery.
According to police, three masked suspects, who were wearing gloves, entered the store. One of the suspect shot at the jewelry case while another jumped over the counter and smashed display cases and stole jewelry with the third suspect.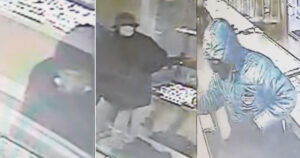 One suspect wore a light blue Champion winter coat. The other two work all black, according to police. Police believe they fled in a black BMW with paper tags, traveling southbound on New Hampshire Avenue.
No one was injured, and police have not yet determined the amount of jewelry that was stolen.
Anyone with information should contact Takoma Park Police at 301-270-1100 and refer to case #210052513.