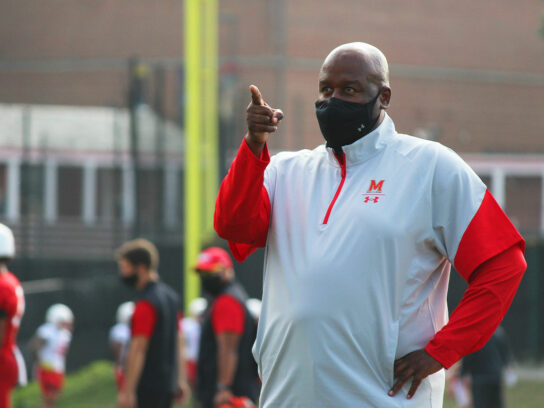 Amid the ongoing COVID-19 pandemic, the Maryland Terrapins are set to kick off their football season on Saturday against the Northwestern Wildcats.
The offseason has been like no other for the Terps, with a rollercoaster of uncertainty surrounding 2020. After the Big Ten Conference cancelled all fall sports in mid-August, the football season was reinstated a month later.
"As I told our team, discipline will define this season for Maryland on the playing field," head coach Mike Locksley said to the media on Tuesday, "as well as off the field, with adhering to some of the guidelines and protocols we have in place to allow us to continue to have this opportunity."
The Big Ten has established stringent plans for teams when it comes to COVID-19, including daily antigen testing and extensive cardiac screening.
"The protocols are a little tough, especially at the beginning when you didn't know if you would have football or not," said sophomore linebacker Fa'Najae Gotay, "so it was hard to stay in and do the right thing."
"But when they let us know that we have the opportunity to play, it just brought everybody together by doing the right things, and we're just excited for the game this week."
Going into the first game of the season, Locksley has decided not to name a starting quarterback, electing to list both Taulia Tagovailoa and Lance LeGendre at the top of the depth chart. Tagovailoa joins the program as a sophomore following a transfer from Alabama. LeGendre is a redshirt freshman and played in three games for Maryland last year.
"We've got two guys that have competed their tails off and have really shown major improvements in our system," Locksley said. "I see a plan where both of them will have some role with our team, but just not ready to announce to the public who [the starter] is."
Locksley stated that a starting quarterback has been decided upon – and the players is aware of who it is – but the team is withholding the information for a "competitive advantage."
Saturday's game marks only the second all-time meeting between Maryland and Northwestern and the first to take place in Evanston, Ill. The Terps last faced the Wildcats at home on Oct. 14, 2018, where the hosts lost 37-21 at Capital One Field.
"They're a formidable opponent for us as an opening game on the road," Locksley said, "a tremendous challenge, but one that, again, our team is very grateful and thankful for."
Kickoff from Evanston is Saturday at 7:30 p.m. ET on the Big Ten Network.
Time to go to work. #TBIA pic.twitter.com/d09v3jQZ4Y

— Maryland Football (@TerpsFootball) October 18, 2020