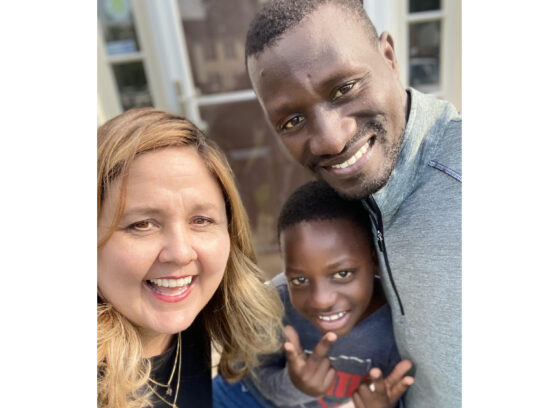 A Gaithersburg mother, whose son recently moved to this area from Uganda, said the seven-year-old barely speaks in school anymore and is regressing educationally. She says that's because Montgomery County Public Schools insisted he attend his closest school, a two-way language immersion school.
Christian Okalebo speaks English and Luganda but not Spanish, which is spoken half the day at Brown Station Elementary School. His parents asked to have him enrolled at the nearby Diamond Elementary School.
Laura Boykin Okalebo and her husband Joseph, said their attempts to get their son into an all-English speaking school were rejected. The request was denied "with no official reason why," she noted.
She filed a hardship case with MCPS' Change of School Assignment form on May 1 after spending much of April talking to officials at Brown Station. After her request was denied she spoke with MCPS's ombudsman to no avail. She described the experience like this, "They tried to shame us."
An MCPS spokesperson wrote in an email, "It is inappropriate to speak about a specific child."
The young man has attended Brown Station Elementary School for three weeks. His classmates told him on the playground that they couldn't understand his accent. He is not able to communicate with his Spanish teachers or understand what they are saying, so he pretty much stopped speaking in school, his mother said.
But after taking to Twitter Wednesday, Okalebo learned her son would be allowed to transfer. However rather than being sent to Diamond Elementary School, MCPS assigned him to Fields Road Elementary School, which is about 20 minutes away.
She had requested he be enrolled at Diamond Elementary, closer to her home and where instruction is in English. She is still fighting to get him in there, she said, noting that he could make neighborhood friends from his new country that way.
Councilmember Andrew Friedson was alerted to her tweet and responded, "very sorry to hear about this," adding, "We would be happy to reach out to @MCPS."
In a text to MyMCM, Friedson said, "We've been in touch with the family following the exchange on Twitter. We reached out to Dr. Bohorquez, acting director of Student, Family and School Services/International Admissions & Enrollment. They are currently looking into it and we hope to have a response soon."
Okalebo is upset with her treatment by MCPS officials. "We don't want this to happen to the next family who comes from another country," she said. "They have to sensitize their staff and listen to the African students."
It took about two years to obtain permission to move the young boy to the United States, she said. In Uganda, he lived in a village without running water or electricity.
I am horrified that @MCPS won't allow us to enroll our son – who arrived from Uganda 3 weeks ago – into a English full day instruction. Two way Spanish immersion does not work for all immigrants. Anyone know any good lawyers in the DMV area willing to help?

— Dr. Laura Boykin Okalebo (@laura_boykin) May 9, 2022