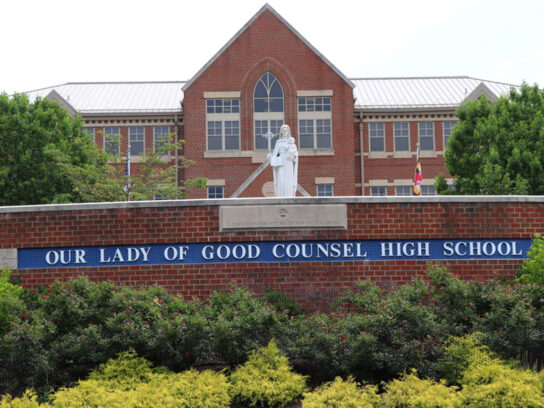 One local high school — Our Lady of Good Counsel — will be watching the NFL playoffs a little more intently than most. The Olney school has three alumni playing this weekend in the NFL's divisional round. And they all played together on the same 2011 team.
Stefon Diggs '12 (Minnesota Vikings wide receiver): Played at Good Counsel High School and was Washington Post All-Met Defensive Player of the Year as a cornerback in 2011.
Kendall Fuller '13 (Kansas City Chiefs defensive back): Played at Good Counsel and was Washington Post Offensive Player of the Year as a wide receiver in 2012.
Dorian O'Daniel '13 (Kansas City Chiefs linebacker): Played at Good Counsel and was Washington Post All-Met 1st team in 2012.
Not surprisingly, the 2011 team, coached by the legendary Bob Milloy, won the Washington Catholic Athletic Conference title for the third year in a row and also finished number one in the area overall in the Washington Post top 20 poll for the third year in a row.
Milloy who is watching his former players closely told MyMCMedia, "I'm extremely proud to have three kids from one team" playing in the playoffs. "I'm very lucky to have that opportunity."
He enjoys being retired and watching his old players because it "allows me to stay in the game without doing all the work."
Milloy said, "I root for my guys and their teams so I can see them play another week. It's that simple."
And if one or more of his players makes it to the Super Bowl 54 in Miami on February 2, Milloy – who has watched each of the previous 53 Super Bowls – said, "I'd have to find my way down there (Miami) for that."
Good Counsel Athletic Director Steve Howe's told MyMCMedia, "We are so proud of our alums Stefon, Dorian and Kendall. They have represented our school in a first class way on the field and in the community…with Dorian and Kendall helping to run our Pro Day camp here for kids this summer and with Stefon coming back to DC to put his efforts into a coat drive for the needy. That's the GC way…excel and serve. It truly is amazing to not only have three guys in the NFL and in the playoffs but two more (Sam Mustipher and Blake Countess) who played in the league this season. It's a true testament to all the players and staff who built our football program up to what it is today."
Diggs and the Minnesota Vikings (11-6) take on the San Francisco 49ers (13-3) on Saturday at 4:35 p.m. Fuller, O'Daniel and the Kansas City Chiefs host the Houston Texans on Sunday at 3:05 p.m. Winners of those games advance to next week's NFC and AFC Champions games respectively.