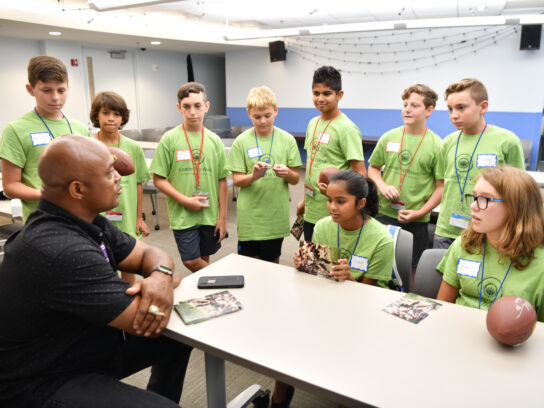 What do Brian Mitchell, Andrew Luck and former Damascus high school standout Jake Funk have in common?  Why, it's their love for the game called football.
In late August, I had the opportunity on the same day to sit with Brian Mitchell and Jake Funk.  I met the former Redskin football favorite at his office in Silver Spring, MD.  It was at Radio One's Team980 radio station.  I caught Funk a few hours later less than 10 miles away after football practice at the University of Maryland.
As for Andrew Luck, well at about the same time of these interviews he became the talk of the sports world.  Why? Because he retired early from the game. Luck, a Stanford University graduate, retired , at age 29. He was an NFL Pro Bowler, with millions of dollars in contracts and endorsements.  So all I can really say is that I saw his career changing statement on TV.
Brian Mitchell was giving a leadership seminar to 10 middle school teens from Gaithersburg's Lakelands Middle School as sponsored by Capitol Benefits, LLC.  I was there as a guest photographer.  It was there that Mitchell mentioned a book he read, that we both had in common.  It was a motivational business fable titled "Who Moved My Cheese" etc. from Dr Stephen Johnson.  It was one of those business best sellers back in the late 1990's published about the time Mitchell and I underwent some changes.
The book's theme was about the attitude for positive change when a goal or desire is "moved" – aka the Cheese.  The four characters of the book are in a maze, two mice, two little humans, that are used as metaphors for striving to reach a goal,  finding, reaching the cheese at the end of the maze.  Eventually, the cheese is moved and they needed to react.
Mitchell used this characterization to stress to the young teens that over time situations change and your success depends on what you learn and how you react.  Mitchell spoke from the heart as he recalled being a Washington Redskin for the decade in the 1990's only to be traded to the Philadelphia Eagles at the start of the new century.  His ability to perform was placed in question, no longer needed by his employer and subsequently shown the door out of town.
It's all about dealing with change, "somebody" moved the joy, the target, the means or purpose for doing.  Mitchell's lesson was that once he dealt with "that" change he had great follow on success for his three years in Philadelphia, as an Eagle – and was much more satisfied with his performance on the field as his stats shows.  The lessons learned also served him well in years after football
For the future leaders part they asked Mitchell pertinent business related questions, not just sticking to life as a Redskin.  They asked about what he enjoyed best now that he no longer plays football, asked about his radio program, the people past and present who he worked with and even about his super bowl ring.  Through it all Mitchell provided a compass point for life after a change in personal direction.
The cheese moved for Mitchell, it moved for Funk and now even for Andrew Luck.
In the past week Luck questioned the physical and mental worth of pursuing his love for the game.  After dealing with multiple seasons of a cycle of injury, pain, recovery, physical therapy, the top draft choice in 2012, as a quarterback, decided to leave the game.  It was no longer is what he envisioned as a way to live his life.  He left the money, the accolades and the game, in search of some thing better.  His cheese moved and he reacted. Luck's future is evolving for the moment without football. That's fine with him.
Following my visit with Mitchell I stood with Maryland's redshirt junior, Jake Funk. I recalled my morning session with Mitchell and how that football great dealt with adversity.  I asked Funk how he reacted to a year of being out of the limelight of college football.  It was basically a three-part question, one that dealt with his injuries, one that dealt with his learning since the injures and lastly how his attitude changed as he faces the last two years of eligibility at Maryland.
Funk talked about how the injury last season and the subsequent injury this spring took him off the radar.  His name was not in circulation.  He talked about the difficulty of not playing football for a year.  How it made him question his love of the game.  Subsequently, through perseverance he said that he reconnected with that love and was now more motivated than ever to contribute as a team member of the 2020 Maryland Terrapins.  He had relocated the love of the game, found his cheese and then moved on.
As I ended my brief time with Jake, I asked what encouragement he could provided to those MoCo  Junior and Senior high school football players who start their season this coming week.  In a few words it was his to say – "Go big, dream big, play big, practice big".
For me, well the cheese came in many forms or dreams, but the one constant was to create images that stand out.  As the cheese moves you reassess and search for it – for the Love [of the Game].
Phil Fabrizio
All Photos copyrighted 2019 © Phil Fabrizio | PhotoLoaf®