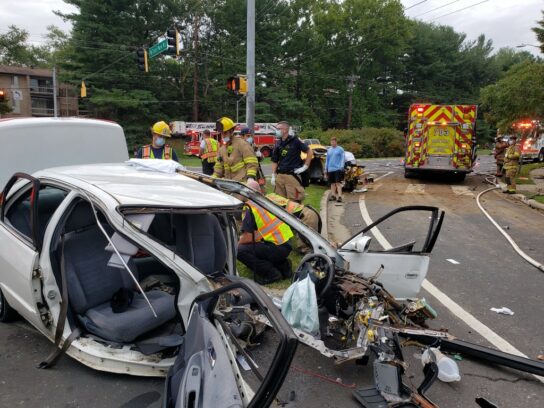 The driver and two passengers involved in a fatal car collision on Muddy Branch Road in Gaithersburg Sept. 9 are improving.
Pete Piringer, Chief Spokesperson for Montgomery County Fire & Rescue Service, said they "were all expected to survive, be treated and released" from the hospital.
The two people in the other car succumbed to their injuries. According to Montgomery County Police, a 2020 Toyota Supra and a 2001 Honda Accord were going opposite directions on Muddy Branch Road, and the cars collided as the Honda was trying to make a left turn onto West Deer Park Road.
Stephanie Angelica Vasquez, 25, of Kensington, and Jonathan Charkas, 35, of Rockville, were in the Supra and were pronounced deceased at the scene. Three adult males in the other car were taken to a hospital with serious injuries.