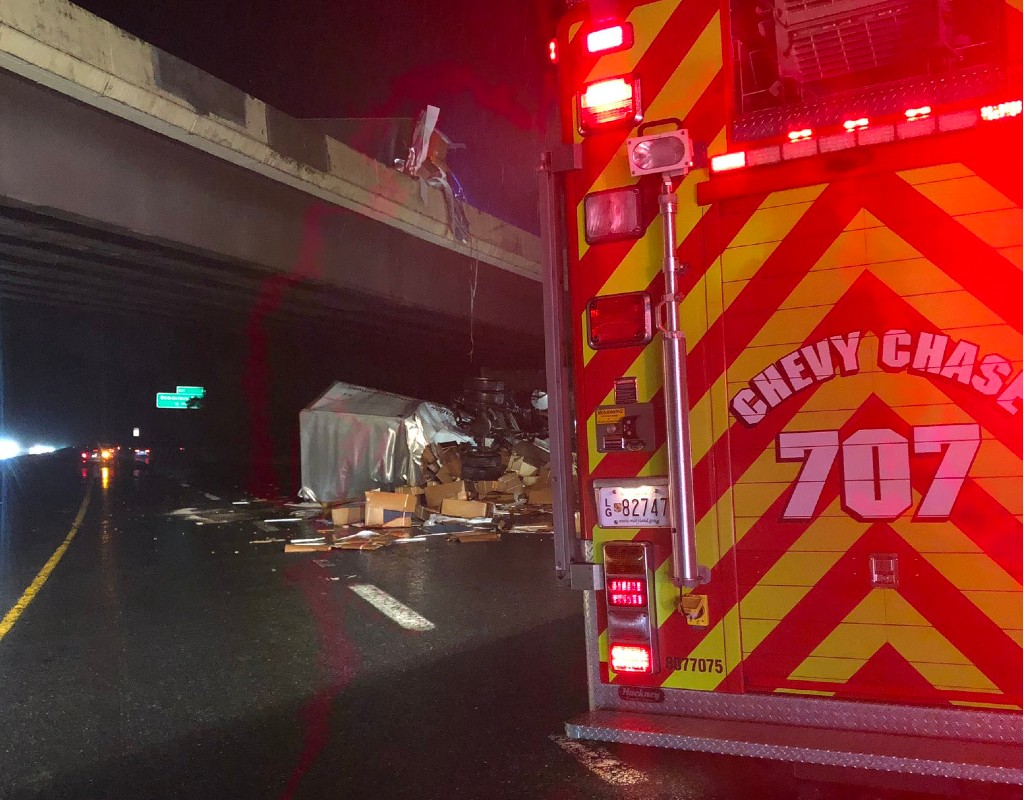 Another Tractor-Trailer Overturns at 'Big Curve' on Capital Beltway
A tractor-trailer carrying cabinets overturned on the outer loop of the Capital Beltway in Montgomery County Wednesday night, shutting down multiple roads. There were no injuries reported.
The accident happened around 9:40 p.m. in the rain, officials say. The trailer overturned on Interstate 495 between Old Georgetown Road and River Road, also known as the Big Curve. This part of the Captial Beltway has seen several crashes especially during and after rains. Authorities say Wednesday's crash caused the tractor portion of the vehicle to fall onto the northbound lanes of Interstate 270.
ICYMI (initial dispatch ~945p) Big Curve OL I495 over I-270 Spur (near Greentree Rd & Bradley Blvd overpasses), single jackknifed tractor trailer, crashed tractor portion ended up on roadway below (I-270 Spur), no injury to driver, no other vehicles involved, some lanes blocked https://t.co/MUAYjhDGFp pic.twitter.com/SHm4qUtmF1

— Pete Piringer (@mcfrsPIO) September 10, 2020
The truck driver told Maryland State Police that he "lost control" going around a left curve causing the truck to hit a concrete barrier and overturn. The driver refused medical treatment at the scene and no one was injured, according to Maryland State Police.
Pete Piringer, the chief spokesman for the county's fire department, tweeted that some "contents of the trailer and fuel saddle tanks" leaked onto I-270.
All lanes reopened to traffic around 3:35 a.m. after they were closed for cleanup.