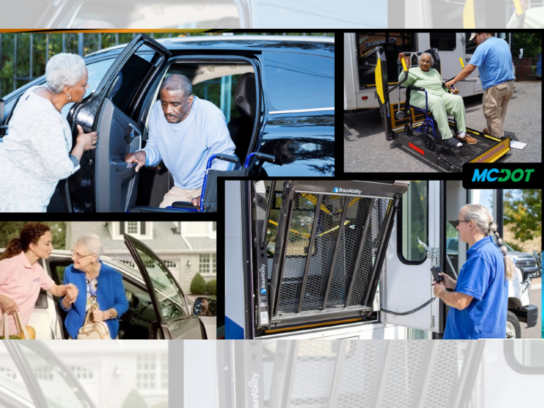 El Departamento de Transporte del Condado de Montgomery (MCDOT, por sus siglas en inglés) lanzó dos programas de subvenciones diseñados para aumentar los servicios de transporte para los residentes discapacitados, de la tercera edad y con ingresos limitados.
Aproximadamente $800.000 en fondos del presupuesto operativo y de infraestructura estarán disponibles para organizaciones sin fines de lucro elegibles para crear programas de asistencia o mejorar los existentes, según el comunicado de prensa de MCDOT.
Las organizaciones sin fines de lucro elegibles ahora pueden solicitar fondos del programa. Las solicitudes deben presentarse antes de las 5:00 p.m. el miércoles 28 de diciembre. Se llevará a cabo una sesión de información virtual para el programa de subvenciones de 1:30 p.m. a 3:00 p.m. el lunes 5 de diciembre.
"Tenemos que asegurarnos de que los miembros más vulnerables de nuestra comunidad puedan acceder a los servicios esenciales que necesitan en todo el condado de Montgomery," dijo el Ejecutivo del Condado Marc Elrich, a través del comunicado. "Estos nuevos fondos de subvención permitirán que las organizaciones sin fines de lucro y nuestros socios comunitarios aprovechen sus recursos para llegar a un número aún mayor de personas que viven en el condado."
Los fondos de la subvención de infraestructura se pueden utilizar para comprar o adaptar un vehículo accesible para sillas de ruedas o comprar un sedán tradicional, un vehículo híbrido o un vehículo eléctrico para entregar alimentos, ropa, suministros médicos u otras necesidades de la red de seguridad para los grupos de población objetivo, según MCDOT.
Los detalles completos del programa, la solicitud electrónica y los detalles de la sesión de información estarán disponibles en Montgomery County Office of Grants Management – Grants Application Platform (fluidreview.com)
Las preguntas sobre el proceso de solicitud pueden dirigirse a Rafael Pumarejo Murphy, Director de la Oficina de Gestión de Subvenciones, llamando al 240-777-2775 o enviando un correo electrónico a rafael.murphy@montgomerycountymd.gov.
Más información sobre el programa del presupuesto operativo FY23 TSM está disponible en FY23 Targeted and Specialized Mobility Operating Grant Program – Montgomery County Office of Grants Management – Grants Application Platform (smapply.org).
Foto Cortesía: MCDOT