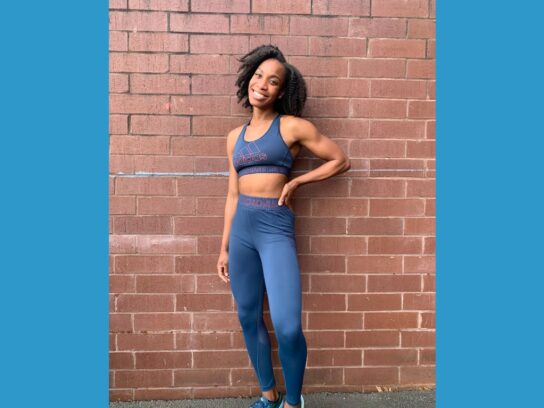 Thea LaFond waited five years for an opportunity to return to the Olympics and find redemption on track and field's biggest stage.
The Kennedy High graduate and teacher, who resides in Silver Spring, qualified for the Tokyo Games, competing for her native Dominica, a small Caribbean island. LaFond carried the Dominica flag in the Opening Ceremony and when the women's triple jump competition started, set a personal best and Dominica record on her first jump of the preliminary round.
Dominica Prime Minister Roosevelt Skerrit announced that there would be special recognition for LaFond, who became the first athlete from the small nation to qualify for an Olympic final.
I congratulate our #OlympicAthlete, Thea LaFond for her extraordinary performance in @Tokyo2020. She has been qualified for the Triple Jump finals as she set the new national record of 14.6 Meters.

— Roosevelt Skerrit (@SkerritR) July 31, 2021
But while that jump of 14.6 meters automatically qualified LaFond for Sunday's triple jump finals, there would not be a happy ending.
Having fouled on her first attempt Sunday, she pulled up on the second resulting in a jump of 12.57 meters. The pressure was mounting. Only the top eight of 12 competitors advance to the final three rounds. LaFond needed a strong jump to move into the top eight.
LaFond powerfully raced down the runway and when she landed in the sand from her jump, she had easily cleared 15 meters – a result that would have put her in second place and given her three more attempts. But it was not to be. LaFond's left foot had crossed the foul line. A referee raised a red flag, signaling a fouled jump. LaFond could only grimace. Her Olympics were over.
"It hurts to have a medal hitting jump that is a foul, but I was moving faster than I've ever moved in my life and making those adjustments are really difficult when you've never seen your body produce something like this before," LaFond said in a message posted to her Instagram story. "Thank you for the support. Thank you for the messages. … We'll be back for worlds."
Proud of Terp, Thea LaFond, for representing Dominica in the Olympic Finals of the Triple Jump. En route she set a National Record for her country #Olympian #Terps pic.twitter.com/dy63IYeU1R

— Andrew Valmon, OLY (@AValmon) August 1, 2021
It was a disappointing result for LaFond. She had been injured and finished last at the Rio 2016 Olympic Games, but appeared on the cusp of something special in Tokyo.
"This jump really hurts … but you live and you learn," LaFond's coach, Aaron Gadson, wrote on his Instagram story. "Would have been good enough for a medal but the right adjustments weren't made."
Former Kennedy High School athlete Thea LaFond finished 12th in the Olympics triple jump finals. Her Dominica national record 14.60m (47-10.75) from the preliminary round was the sixth best individual mark from all rounds. pic.twitter.com/ZSdEURlKcB

— MoCoRunning (@Mocorunning) August 1, 2021
Yulimar Rojas of Venezuela set an Olympic record on her first attempt and bettered that with a world record of 15.67 meters to win the gold medal.
Related posts:
MCPS Teacher Headed to Tokyo Olympics to Compete for Dominica
Kennedy High Teacher Carries Flag in Tokyo Games Opening Ceremony