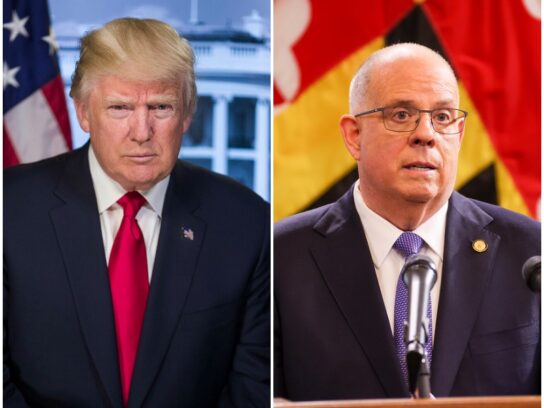 Former President Donald Trump endorsed Maryland Delegate Dan Cox in his bid to be the next governor of Maryland. Included in his endorsement, Trump threw a zinger at Gov. Larry Hogan, calling him "terrible for our country."
Hogan, who is term limited and cannot seek re-election, responded on Twitter. "Personally, I'd prefer endorsements from people who didn't lose Maryland by 33 points,." Hogan's tweet was an obvious reference to Trump's comments on the late Sen. John McCain. "He's a war hero because he was captured. I like people that weren't captured," Trump said.
Trump is backing Cox, calling him "an America First Patriot" and noting, "Dan is MAGA all the way." MAGA was Trump's rallying cry when he was president. It stands for Make America Great Again.
Cox has been a state delegate since 2019. The Republican represents District 4, which covers parts of Carroll and Frederick counties.
Cox made the news following the Jan. 6 attack on the U.S. Capitol. He denounced what he called "mob violence," but not before he labeled former Vice President Mike Pence "a traitor," for not ensuring that Trump become president again although he did not win the election.
During Tuesday's news conference, Hogan endorsed Maryland Commerce Secretary Kelly Schulz, who is running for governor on the Republican ticket.
"She would make a great governor. I fully intend to get involved in helping her. Dan Cox, the guy that we were hearing about yesterday, is a Qanon whackjob who was in favor of, I think, of calling Mike Pence — my friend Mike Pence — a traitor when they were talking about hanging him. So it's a pretty clear choice."
Endorsement of Dan Cox pic.twitter.com/VQzEFAU1TN

— Trump War Room (@TrumpWarRoom) November 22, 2021
Personally, I'd prefer endorsements from people who didn't lose Maryland by 33 points.

— Larry Hogan (@LarryHogan) November 23, 2021