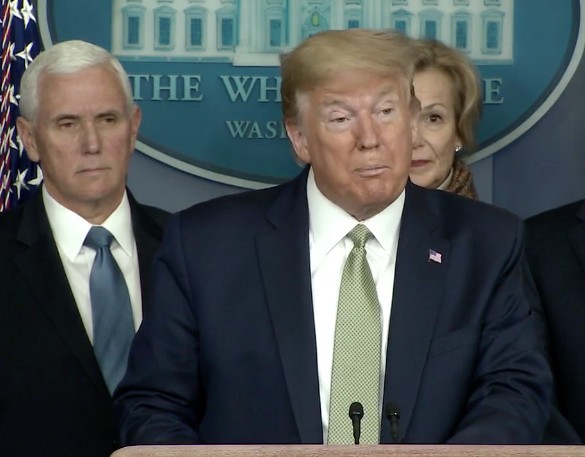 Trump Wants to Send Money to People as Quickly as Possible
During a Coronavirus Task Force briefing Tuesday, U.S. Secretary of the Treasury Steve Mnuchin said the administration supports putting into law a stimulus package for Americans for financial support during the outbreak. 
"We're looking at sending checks to Americans immediately," Mnuchin said. He said people need money now and that President Donald Trump wants to give out cash now, as in the next two weeks. Mnuchin did not give a specific number as to the amount of money that Americans might receive. 
He said he's considering an income restriction on the stimulus package. 
"It's clear we don't need to send people who make a million dollars a year checks," Mnuchin said. 
Trump said he wants to get money out to people as quickly as possible, and his administration should have a pretty good idea by the end of the day Tuesday as to what it will do. He said payroll tax is an option, but it takes a long time. 
"Payroll tax is one way but it does come over a period of many months and we want to do something much faster than that so I think we have ways of getting money out pretty quickly and very accurately," Trump said. 
Trump said the Food and Drug Administration (FDA) has authorized all states to develop coronavirus tests.
"This has never been done before… I think it's going to be incredible if it's done properly," Trump said. 
The president said all Medicare patients can now visit their doctor through telehealth services at no additional cost. Telehealth channels include FaceTime and Skype. This way, hospitals can better maintain their capacity, Trump said. 
Vice President Mike Pence urged construction companies to donate their N95 face masks to their local hospitals and withhold additional orders of the masks. Pence said the masks used on construction sites are "perfectly acceptable" for healthcare workers. 
Adm. Brett Giroir said as of Tuesday public health labs have conducted 31,878 coronavirus tests. Clinical labs have reported about 27,000, with 8,200 being conducted yesterday. Giroir said he does not have the numbers from individual hospitals yet, but will in the next day or so. 
LIVE: Press Briefing with Coronavirus Task Force https://t.co/u2AZ7iT4Ob

— The White House (@WhiteHouse) March 17, 2020