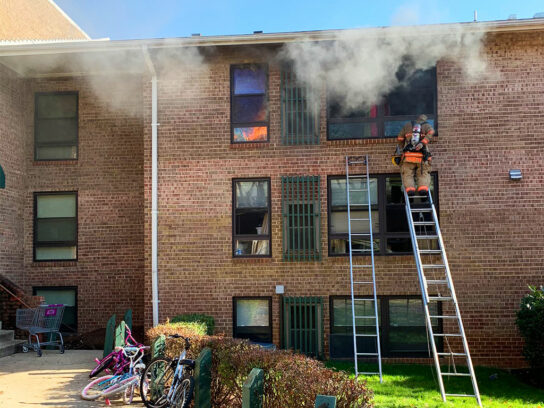 Dozens of firefighters responded to an apartment fire in Gaithersburg Nov. 13, according to Montgomery County Fire & Rescue Services.
At approximately 1:20 p.m. Friday afternoon, firefighters arrived at the scene on Washington Grove Lane. The fire was in an unoccupied third story apartment, according to Montgomery County Fire & Rescue Service (MCFRS) Chief Spokesman Pete Piringer.
Over 90 firefighters were dispatched to the two-alarm scene. The first entry to the apartment was made through the window. First responding crews had difficulty entering the apartment due to the door being held shut by "extreme locks," according to Piringer.
MCFRS was able to extinguish the fire without difficulty, and it was contained to only the initial apartment. The apartment suffered significant damage, but there were no injuries. Dozens of residents were evacuated from the building, and Piringer estimates that people in at least four to five units will be displaced.
The cause of the fire is still under investigation.
MCFRS crews are operating at an apartment fire. @mcfrsPIO pic.twitter.com/DymhKFCsVL

— Jason Blake (@mcfrsPIO7) November 13, 2020