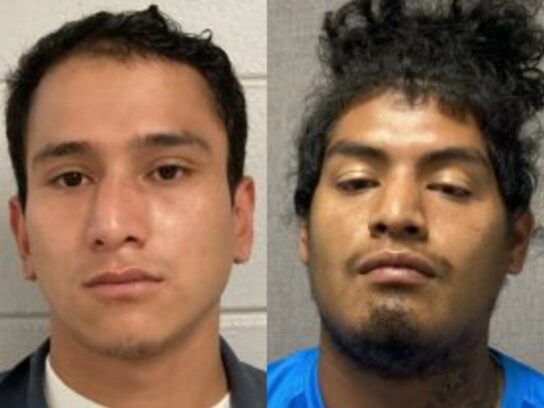 Two men have been charged in a Sept. 16 armed carjacking in Rockville.
According to case records the Montgomery County Police Department (MCPD) charged Juan Angel Madrid, 25, of Rockville with:
Armed carjacking
First degree assault
Armed robbery
Criminal firearm use
Michael Castillo Guzman, 26, was also charged with the armed carjacking. Police said he is incarcerated at a correctional facility in Worcester County on unrelated charges. Guzman's case records are not published.
MCPD said on Sept. 16 around 8:35 p.m. a 19-year-old male was approached by Guzman and Madrid in an apartment building parking lot on Veirs Mill Road. Guzman tried to search the victim's pockets and then pointed a handgun at his head. The victim fled while his car was left running nearby and the two suspects drove away in it, according to police.
Officers responded to the victim's 911 call and shared his car's description with MCPD and the Rockville City Police Department (RCPD). At 8:44 p.m., about 10 minutes after the crime, MCPD said officers saw the stolen car in the Route 355 and Park Road area. They tried to stop the car but it kept going toward the North Van Buren Street and West Middle Lane intersection. MCPD said the car stopped at that intersection and Guzman and Madrid ran from it.
A third person in the car did not run and was arrested. Police found they were not involved in the crime and the person was released from custody without charges. MCPD said investigators received a tip that helped them identify Guzman and Madrid. Madrid was arrested Sept. 25 and is being held without bond.
Two Suspects Charged with September 16 Rockville Armed Carjacking: https://t.co/zJ6nDoJ9nq

— Montgomery County Department of Police (@mcpnews) October 15, 2020