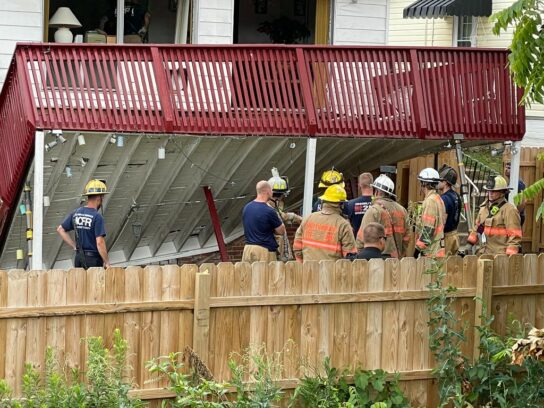 A deck collapse in Rockville on Friday sent two people to the hospital with non-life threatening injuries, Montgomery County Fire and Rescue Service (MCFRS) Chief Spokesperson Pete Piringer said.
The collapse occurred around 3:45 p.m. at a single-family house on the 5800 block of Adrian Street just off Veirs Mill Road, according to Piringer. Two people became confined under the deck and one person was on top; all three were rescued and two were transported to the hospital.
MCFRS Chief Scott Goldstein said the deck was roughly seven feet off the ground and appeared to have pulled away from the house and ledger board, which is essentially where the deck connects to the house. Goldstein said furniture from the deck slid into the crevice when it collapsed and caused some of the injuries.
The patients were "very lucky," Goldstein said, because the deck was tall and injuries could have been significant if there was entrapment or if the deck landed on them. He reminds residents not to overload their decks.
On June 27, six adults were taken to a local hospital after a townhouse deck collapsed on Walnut Cove Circle in Germantown.
Piringer said 95% of deck collapses MCFRS responds to occur due to some sort of failure at the point where the deck meets the house, also known as the ledger. The Department of Permitting Services (DPS) has a checklist of maintenance suggestions that should be done at least once a year.
Update – Adrian Street, Rockville, Single family house, rear deck collapsed, three (3) patients all removed (2 trapped/confined underneath one on top), @MCFRS_EMIHS evaluating injuries, building inspector notified https://t.co/qFDZREeXh1 pic.twitter.com/UpIjoeLwSB

— Pete Piringer (@mcfrsPIO) July 2, 2021
'Live' update with @mcfrs Chief Scott Goldstein from Adrian St., Rockville, deck collapse, three (3) patients removed & two (2) have been transported to hospital https://t.co/l4vYr6VnZK

— Pete Piringer (@mcfrsPIO) July 2, 2021
[hr]
Related Post:
'Mass Casualty Incident': Deck Collapse Hospitalizes Six With Non-Life Threatening Injuries