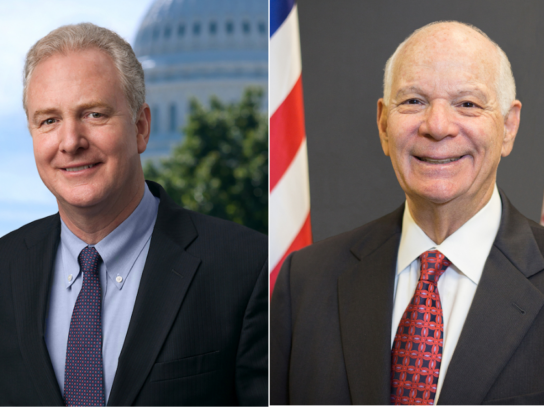 U.S. Senators Chris Van Hollen and Ben Cardin voted Saturday to convict former President Trump during his second impeachment trial. Sixty seven votes were needed to convict Trump, but only 57 senators voted against the former president. All Democrats and seven Republican senators voted to convict.
In a statement released shortly after the vote, Van Hollen wrote, "The evidence is clear. Donald Trump committed high crimes and misdemeanors against our nation in his incitement of the insurrection on our Capitol on January 6th. He violated his duty and oath of office to preserve, protect, and defend the Constitution – and in fact, his actions flew directly in the face of this most sacred responsibility. The overwhelming documentation provided by the House managers underscored this truth. That is why I voted to convict Donald Trump today."
Van Hollen said he was "encouraged" that the final tally "was the largest bipartisan vote to convict a president in American history."
Referring to events during the Jan. 6 rioting in the U.S. Capitol, Cardin said of Trump, "He put himself before the nation, before his responsibilities as president of the United States. He put his own self-interest above his responsibilities under the Constitution of the United States and to the people of this nation."
Here are Cardin's remarks from the Senate floor.
This trial proved Trump's high crimes against the Constitution. 43 senators put Trump first and failed the test of history. But history was also made with the largest bipartisan majority ever voting to convict a president. The rest of the story is ours to write.

— Senator Chris Van Hollen (@ChrisVanHollen) February 13, 2021
Everyone who was responsible for the insurrection on Jan. 6 should be held accountable, from those who broke into the US Capitol to Donald Trump, who clearly incited the violence. That is why I voted to convict him today.

My statement: https://t.co/m3CawHaXrO

— Senator Ben Cardin (@SenatorCardin) February 13, 2021