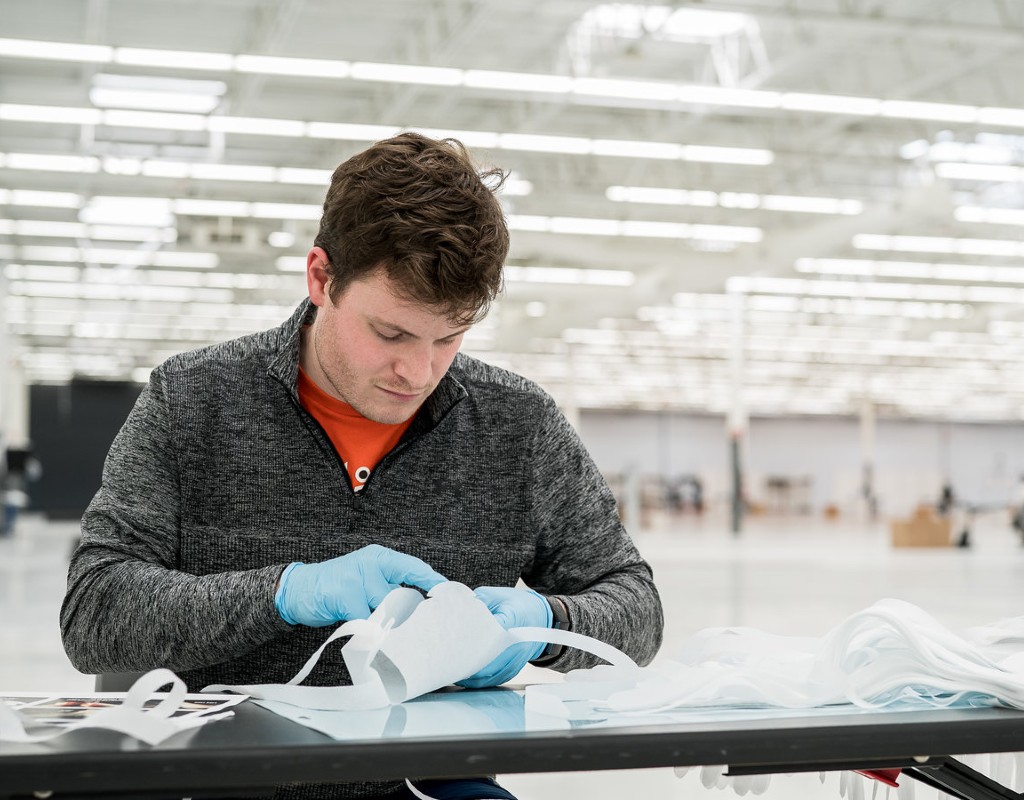 Under Armour is Making Masks, Other Supplies for UMMS Staff and Providers
Under Armour is creating and assembling face masks, face shields and special fanny packs to help support the University of Maryland Medical System's health care providers and staff, the brand announced Tuesday.
Under Armour stated that they are hoping they can use their experience with product innovations to help heath care systems defend against the coronavirus. The brand is also working to possibly assemble hospital gowns as well.
"When the call came in from our local medical providers for more masks, gowns and supply kits, we just went straight to work," said Randy Harward, SVP of Advanced Material and Manufacturing Innovation at Under Armour. "More than 50 Under Armour teammates from materials scientists to footwear and apparel designers from laboratories in Baltimore and Portland quickly came together in search of solutions."
We will get #ThroughThisTogether. UA has begun to manufacture and assemble face masks, face shields and specially equipped fanny packs for the 28,000 health care providers and staff at @umms. https://t.co/TfMSG2xIti pic.twitter.com/cRUZ3bcs6m

— Under Armour (@UnderArmour) March 31, 2020
The face masks will be provided to LifeBridge, a health care organization in Baltimore, and they are discussing the demand for supplies with Johns Hopkins Medicine, MedStar and other local medical institutions, according to Under Armour. The brand stated that they are working to create and distribute more than 500,000 face masks and 50,000 specially equipped fanny packs. In addition, the brand has already delivered 1,300 face shields to UMMS.
The focus of their team was to create a mask that protects health care workers from the virus and can have high numbers of production in a short amount of time. The design the team chose is a one piece mask with origami-style folds that mold the breathable, moisture resistant fabric into a desired mask shape, according to Under Armour.
"I call it the magic of conflict," Harward said of the mask design process. "This was a high-pressure situation in which a group of people were debating the best solution in a very dynamic environment. It was a nonstop iteration for a week until we finally got to where we are today."
The masks are currently being created at Under Armour's Lighthouse in Baltimore, where the team is using the labs knife cutter, a fabric cutting machine that cuts almost 100 pieces of fabric at once. After this, the masks are then passed on to volunteers and hospitals for folding and distribution, according to Under Armour. Harward predicts the team can create 100,000 masks per week moving forward.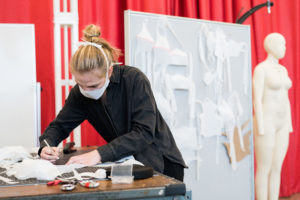 Under Armour stated that their team is also exploring 3D printing specific masks for medical professionals. The brand will continue to be of service and support various groups to help in the fight against the coronavirus.
"At Under Armour, we know the value of being part of a team. This mindset is important now more than ever as we come together to combat COVID-19," said Patrik Frisk, Chief Executive Officer at Under Armour. "I'm incredibly proud of the quick thinking and hard work of all our Under Armour teammates as we work with health care professionals to strengthen our community — teamwork has proven to be key."