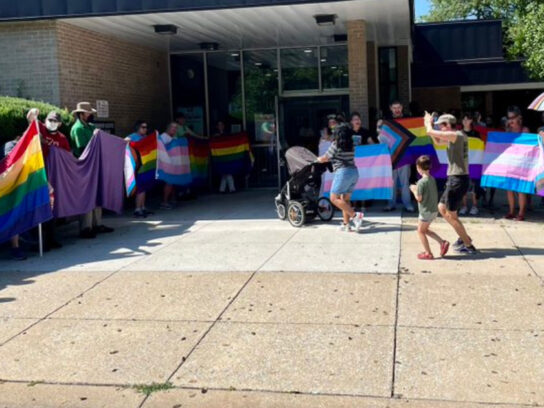 Dozens of people held pride flags in front of the Kensington Library on Saturday to ensure that Drag Queen Story Hour would go on uninterrupted.
At the July 16 drag queen story hour held in Downtown Silver Spring, protestors had gathered and screamed at the children as they tried to listen to the stories. That program, sponsored by Montgomery County Pride Center and Loyalty Books of Silver Spring, was "horribly interrupted," according to a tweet by Loyalty Bookstores of Silver Spring.
Protestors "invaded our space and screamed at children," according to the tweet.
The latest event "went off beautifully. We outnumbered them at least 10 to one. They did not receive a platform," said Kristin Mink, the leading vote getter for the District 5 county council seat, according to unofficial and incomplete results from the Maryland Board of Elections.
Mink responded to a call for help from Montgomery County Pride Center, offering her organizing and nonviolent resistance skills, even though she busily was knocking on doors and trying to win votes before the July 19 primary election, she told MyMCM.
Mink scheduled an organizing meeting that included Maryland Delegate Jared Solomon, Takoma Park Mayor Kate Stewart and several other leaders and citizens.
The event went off without a hitch, Mink said. The organizers had set up a sound system that blared Disney music, and they positioned themselves so that the protestors could not enter the library meeting room.
Councilmember Will Jawando introduced the queen, Charlemagne and tweeted, "Love the [rainbow] path created by or community to stop protestors from harassing our performer, families and children."
Delighted to introduce Charlemagne at Kensington Library Drag Queen Story Time. Love the 🌈 path created by our community to stop protesters from harassing our preformer, families and children.#LGBTQrights #DQST @MCPL_Libraries @KristinMink_ @jaredssolomon @VoteKateStewart pic.twitter.com/utXp9bohLY

— Will Jawando (@willjawando) July 23, 2022
"The vibe for the day was decidedly joyful," Mink said. "The performer was safe. She was treated like the queen she was."
Mink said they will return for the next Drag Queen Story Hour to ensure the protestors understand they can't stop the program. This is not just about support LGBTQ+, "This is really about diversity."
Loyalty Bookstores vowed to continue the program, which was held on Ellsworth Street, but "in a safer location." It is held on the third Saturday of each month.
"You cannot silence this joy or use our spaces to spread hate. We love our families and are so sad that a moment of celebration became one of fear," Loyalty Bookstore tweeted.
This is what community, good organizing, deescalation, love, and #WeKeepUsSafe looks like.

We knew protesters were coming to Drag Queen Story Hour, so we activated.

The library welcomed our help. Electeds participated. Kids enjoyed our rainbow welcome party.

Proud of us. pic.twitter.com/xq4huiS1V3

— Kristin Mink for Montgomery County Council (MD) (@KristinMink_) July 23, 2022
Drag Story Hour In Kensington #flickr https://t.co/p1c1NhnrhO
mocodsa@willjawando @MoCo_DSA @KristinMink_

— Steve Melkisethian (@SMelkisethian) July 24, 2022