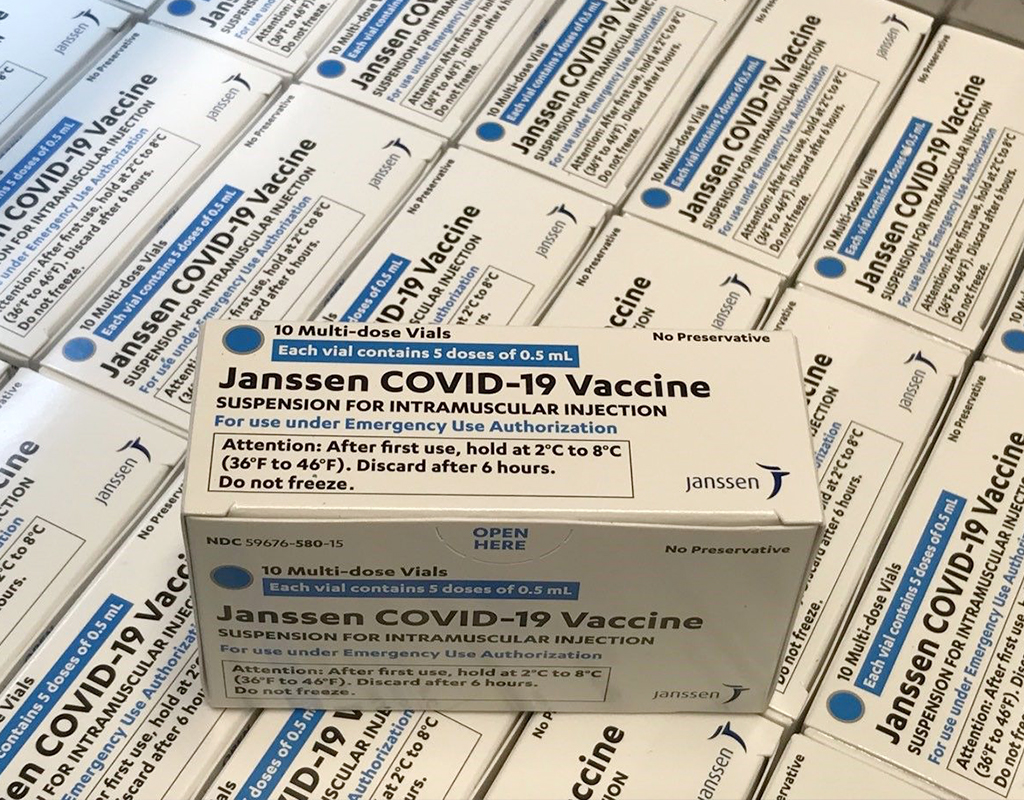 Use of Johnson & Johnson Vaccine Paused Due to Six Blood Clot Cases
Use of the Johnson & Johnson COVID-19 vaccine has been paused "out of an abundance of caution" while six incidents of rare and severe blood clots are studied, and medical professionals are alerted to what to look for and how to treat anyone experiencing these conditions, Dr. Janet Woodcock, acting U.S. Food and Drug Commission administrator, said in a joint press conference with the Centers for Disease Control and Prevention Tuesday morning.
Of the six cases, one was fatal and another patient is in serious condition. All six cases occurred in women between the ages of 18 and 48, and symptoms arose between six and 13 days after receiving the vaccination.
About 6.8 million doses of this vaccine have been administered.
This type of blood clot is called cerebral venous sinus thrombosis (CVST) and was seen in combination with low levels of blood platelets. The challenge is that it needs to be treated differently than other blood clots or the illness will worsen, said Dr. Peter Marks, director of the FDA Center for Biologics Evaluation and Research. He urged doctors who see patients with low blood platelets or blood clots to ask if they have had the Johnson & Johnson vaccine within the past month.
People who have had this vaccine in the past month and experience severe abdominal and leg pain or a severe headache should contact their health care provider. These symptoms are different than flu-like symptoms.
The pause in administering this vaccine is a recommendation and not a mandate, Marks said. It does not pertain to the Pfizer or Moderna vaccines, and the experts on the joint press conference urged people to continue to get vaccinated.
Montgomery County is following the CDC and FDA's recommendation and is pausing use of this single-dose vaccine.
"While questions remain about the rare occurrence of blood clots in some individuals who received the Johnson & Johnson vaccine, we are operating from an abundance of caution in pausing the use of the vaccine for our residents. To date, we have not had any reported cases to us involving Montgomery County residents," said Dr. Travis Gayles, Montgomery County health officer. "Anyone who has received the J&J vaccine and develops a severe headache, abdominal pain, leg pain, or shortness of breath within three weeks after vaccination should contact their health care provider."
Those scheduled for the J & J vaccine Tuesday at the Germantown mass vaccination site will receive the Pfizer vaccine instead. This is the only site where the county was administering the J & J vaccine.
The Maryland Department of Health also issued a statement about the pause in use of this vaccine.
CDC and FDA reviewing data involving six reported U.S. cases of a rare type of blood clot in individuals after receiving Johnson & Johnson COVID-19 vaccine. See full statement: https://t.co/ekYT9dljtd pic.twitter.com/a7Fiixg735

— CDC (@CDCgov) April 13, 2021
ADVISORY: Based on the federal government's recommendation and out of an abundance of caution, @MDHealthDept directs all Maryland COVID-19 vaccine providers to pause the administration of Johnson & Johnson vaccines until further federal guidance is issued: https://t.co/jaesglfaHZ

— Maryland Department of Health (@MDHealthDept) April 13, 2021