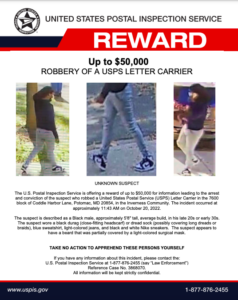 A United States Postal Service (USPS) letter carrier was robbed by a suspect who displayed a firearm in Potomac. 
On Thursday, U.S. postal inspectors from the Washington Division and Montgomery County Police Department (MCPD) officers responded to the 7600 block of Coddle Harbor Lane for the incident, according to a public information officer for the U.S. Postal Inspection Service (USPIS), Washington Division.
The letter carrier was delivering mail when the suspect approached her and demanded USPS property while displaying a firearm concealed in his waistband area, per the USPIS. After obtaining USPS property, the suspect fled. The letter carrier was not harmed.
The suspect is described as a Black male, late 20s to early 30s in age, about 5'8 in height, wearing light blue denim jeans, a blue sweatshirt, black and white sneakers and possibly a black skull cap covering long hair.
The investigation is in the preliminary stages. Officials request that anyone with information contact USPIS at 1-877-876-2455, say "Law Enforcement" and reference case number 3868070.
Up to $50,000 is offered for any information that leads to the arrest and conviction of the suspect. Callers can be anonymous and all information will be kept confidential. According to USPIS, armed robbery of a USPS employee is punishable by up to 25 years in prison.
MCPD referred questions to USPIS.